City primary schools celebrate after growing their own grub
Published on Friday, October 19, 2018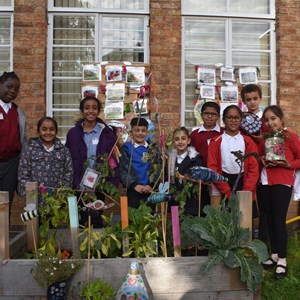 A CITY primary school is celebrating its fourth consecutive win in an annual gardening competition.
Mayflower Primary School, in Evington Drive, has once again taken the top prize in the Leicester City Council's Grow Your Own Grub competition, which is organised by the council's parks services and environmental education teams.
Schools were asked to produce a menu for a three-course meal, featuring at least five items that they would grow on-site, such as vegetables, salad crops, fruits, herbs or cereals.
The choice of dishes could be as diverse as they liked and could include all food groups – such as fish or meat – as well as fruit and vegetables. Completed menus were returned by May and the menus were judged on presentation, nutritional value, creativity and appeal.
In June, the judges visited the schools and assessed the growing areas, looking at the condition of the crop, the use of environmentally-friendly growing methods, innovation and presentation of the site.
The combined results from both stages were used to choose the overall winning school, which will receive a trophy.
Mayflower Primary was the overall winner after coming up with a menu featuring masala fish in a garlic and ginger sauce with rice, peas and diced carrots, plus a side dish of Bombay potatoes and a salad, and a dessert of strawberry parfait.
Luke Whitney, headteacher at Mayflower Primary School said: "We're delighted to have been named overall winners in this competition for the fourth year. It's really important that we promote healthy, sustainable, locally-grown food, and our pupils enjoy coming up with menus that showcase the food we produce. It's fun, it supports our curriculum and it means children convey healthy, sustainable food messages into their homes."
Gold, silver and bronze runner-up awards have also been awarded to other city schools which took part in the competition. King Richard III Infant School and Sparkenhoe Primary School got gold awards, Scraptoft Valley and Mellor primary schools were awarded silver and Stokes Wood Primary School got a bronze award.
Representatives from each of the schools were awarded certificates at a special event at Mayflower on Friday (19 Oct), when they also toured the school gardens and had lunch from the winning menu.
Deputy city mayor Cllr Piara Singh Clair, who attended the event, said: "Congratulations to all the schools who entered this competition and to the winners, who have shown real dedication in producing the ingredients for their healthy menus. We're pleased to be able to support schools in this important area of learning by running this popular competition."
For next year's competition, schools will be asked to grow their own grub in a wheelbarrow – or 'mealbarrow' – and design a menu around what they decide to grow. The mealbarrows will then be displayed in Evington Park. Schools will be able to find out more and sign up for next year's competition from next month.
(ends)