City's greener transport plans get £6.2million European cash boost
Published on Wednesday, October 24, 2018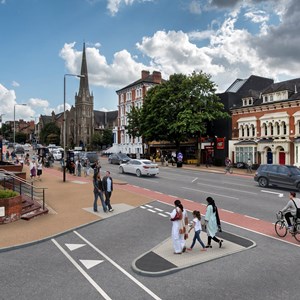 PLANS to promote sustainable transport and cut carbon emissions across Leicester have received a major boost with the award of almost £6.2million of European Union funding.
Leicester City Council has successfully bid for £6,192,000 from the European Regional Development Fund (ERDF) to support a range of ambitious transport related projects that aim to cut greenhouse gas emissions.
The funding will be shared across four main areas, with the largest share – almost £3.3million – earmarked for the next phase of the Connecting Leicester programme.
This includes over £1.2million of match-funding for the London Road improvement scheme, which is now under way. The £3.9million project will transform the route between Granby Street and Mayfield Road roundabout and create a safer and more attractive route for cyclists and pedestrians with new off-road bike lanes, better bus stops, improved road crossings and wide, high quality pavements.
Street improvements for Dolphin Square and the adjacent stretch of Market Place South will receive £350,000 of ERDF cash. The scheme, which is planned for summer 2019, will see the area resurfaced in high-quality porphyry with carriageway raised to footpath level.
Horsefair Street and Pocklingtons Walk will also be revamped to provide high quality walking and cycling links and almost £1.5million of ERDF funding has been awarded as match-funding for these projects.  Both schemes are currently in the early design stage.
The ERDF award also includes over £1.4milllion of match-funding towards a new grant scheme to encourage local companies and other organisations to green-up their fleet vehicles.
Taxi companies will be the main focus of the new grant scheme, with operators invited to bid for financial help to cover the cost difference between new diesel and new ultra-low emission vehicles (ULEVs).
The scheme is expected to launch in early 2019 and offer grants of up to £10,000.
Around £250,000 of ERDF cash will also be used to fund new charging points for ULEVs.
The ERDF award also includes £525,000 towards the installation of new solar panels at Haymarket and New Street car parks, and at St Margaret's Bus Station.
Almost £200,000 was awarded to extend the city council's work to promote cycling, walking and public transport options to local businesses and their staff.
City Mayor Peter Soulsby said: "This is excellent news for the city and a tremendous endorsement of what we're trying to achieve through major schemes like Connecting Leicester and our Air Quality Action Plan.
"The funding will allow us to accelerate improvements for cyclists and pedestrians in the city centre and provide more safer and attractive routes linking key attractions.
"The ERDF award comes just days after the announcement that Leicester will be one of ten cities to receive a share of the Government's £840milllion Transforming Cities Fund. It's a further example of how city council-led regeneration and transport improvements are helping to attract millions of pounds of new investment into Leicester."
Deputy City Mayor Cllr Adam Clarke, who leads on environment and public health, said: "In light of the recent, sobering warnings from the Intergovernmental Panel on Climate Change on the impact of global warming, it is vital that we don't lose sight of our responsibilities to cut the city's carbon footprint.
"The ERDF award will be a huge boost for our work to reduce pollution, cut carbon emissions and improve air quality across Leicester.
"Along with financial support to extend the city's network of safe cycle routes, the new funding will allow us to invest in more solar energy at our own buildings and extend our successful work in promoting sustainable transport to local businesses.
"It will also help us to offer a real incentive for local businesses and organisations looking to switch their fleet vehicles to cleaner, low emission alternatives."
The ERDF award will be spread across three years and matched by £4.7milllion of council spending and an anticipated £1.7million of private investment in cleaner, greener ULEV vehicles.