City's leaders launch Leicester's Homelessness Charter
Published on Tuesday, October 30, 2018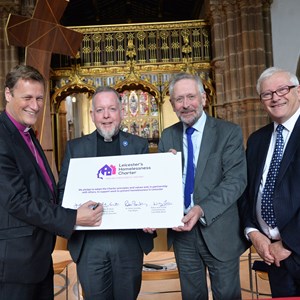 The Bishop of Leicester, Leicester's City Mayor and Leicestershire's Police and Crime Commissioner have joined forces to launch Leicester's Homelessness Charter.
The charter aims to improve the way organisations and individuals work together to tackle homelessness in the city, and to harness the enthusiasm of those who want to get involved but don't know how.
More than 100 people from charities, the voluntary sector, local businesses and statutory organisations attended the launch, which took place at Leicester Cathedral.
The Rt Revd Bishop Martyn Snow, Sir Peter Soulsby, and Lord Willy Bach signed a pledge committing their organisations to support the aims of the charter.
The Rt Revd Bishop Martyn Snow said: "This is all about working together with the different groups within Leicester who have expertise on this issue for the good of people who experience homelessness. I am delighted that the Diocese of Leicester has been able to host and facilitate the development of this charter so that we all work together in genuine partnership to meet the needs of individuals at the heart all we do."
City Mayor Sir Peter Soulsby said: "The city council has a five year action plan to prevent and tackle homelessness in the city and we are spending more than £5 million a year to deliver this, working closely with many of the organisations here today. We know there are many other people working with energy and passion to support those experiencing homelessness in our city, and look forward to working with them to achieve our common aim."
Lord Willy Bach, Leicestershire's Police and Crime Commissioner, said: "There are many reasons why people are homeless including ill-health and drug or alcohol abuse.  Sometimes it can be the result of crime and other times people turn to crime to try and survive.  Society, public services and businesses need to work together to help people out of a revolving sequence of events that results in homelessness."
A copy of the charter is available here
The Charter was also signed by the Very Revd David Monteith, Dean of Leicester, and by many of those attending, including representatives from Action Homeless, Highcross Leicester, De Montfort University, McDonalds, East Midlands Housing, University of Leicester and haymarket Theatre.
It provides a vision, values and principles that can be shared by all of those working to prevent homelessness in the city, and to support those affected by it. It aims to reduce duplication, improve communication between those working with homeless people, and to raise awareness of services and how the public can help.
Many attendees at the launch have signed up to join action groups around particular aspects of homelessness, with dates already fixed for the first meetings. People experiencing homelessness will be involved in this work.
A website is being created which will track progress and enable others to pledge their support and get involved in practical ways. In the meantime more information on how people can support the Charter is available by emailing Homeless.Charter@leccofe.org