Council's first phase of tower block sprinkler retrofitting to get under way
Published on Thursday, October 4, 2018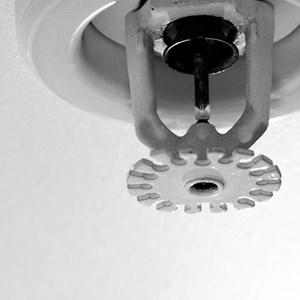 A PLANNED programme of work to retrofit sprinkler systems to five city council tower blocks will get underway next month.
Maxfield House, an 18-storey block on the St Peter's estate in Highfields, will be the first to see a sprinkler system fitted, at a cost of £450,000.
The block is currently empty while a major £2milllion refurbishment project is carried out. The new sprinkler system will be retrofitted as part of that work. Fitting will is due to begin in late November and is expected to take around five months to complete.
The new system will see five individual sprinkler units installed in each of Maxfield House's 85 flats.
Work on the wider refurbishment of Maxfield House – which will see all flats redecorated and refitted with ne kitchens, bathrooms and flooring – is progressing well.
Communal areas of the tower block are also being refurbished and the entire block is being rewired with new, more efficient heating and ventilation systems fitted throughout.
Cllr Andy Connelly, deputy city mayor for housing, said: "The work at Maxfield House is the latest phase of our ambitious tower block refurbishment programme.
"It also marks the start of our commitment to retrofit sprinkler systems to all of our residential tower blocks. It's not an easy or cheap thing to do, but the priority here is the safety of our tenants."
Although there is no requirement to do so, Leicester City Council took the decision to fit sprinkler systems to its residential tower blocks following the Grenfell Tower tragedy.
Funding to retrofit sprinkler systems at four other residential tower blocks – Gordon House, Clipstone House and Framland House on the St Peter's estate, and St Leonard's Court in Clarendon Park – is expected to be approved for the 2019/20 capital programme. The exact costs are not yet known.
Work would then get under way by summer 2019. These systems will be fitted without the need to move tenants out of their flats.
Goscote House – Leicester's tallest tower block at 23-storeys – is proposed to be decommissioned and demolished, after structural reports called into doubt its long term viability.
The block is currently being used to provide temporary accommodation during the Maxfield House refurbishment.
The city council is currently is discussion with Leicestershire Fire and Rescue Service to allow the block to be used for training purposes once it is vacant.