Council staff support city-wide Readathon
Published on Monday, October 8, 2018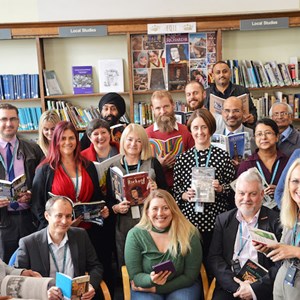 STAFF and councillors from Leicester City Council have been showing their support for the city-wide Readathon by picking up a book and reading for pleasure.
The Readathon, organised by the charity Read for Good and local reading campaign Whatever it Takes, has seen more 28,000 local people signing up to take part. The aim is to encourage more everyday reading for everyone, as well as to raise money for good causes including school libraries and Leicester's children's hospital.
The Readathon links with Leicester's Everybody's Reading festival, which ran from 29 September until 7 October, and saw reading events, poetry performances and author talks taking place at libraries and community venues across the city.
As part of the Readathon, people are invited to take part in DEAR events – Drop Everything And Read – where you stop what you're doing and simply read for pleasure for 15 minutes.
Council staff took part in Drop Everything And Read on Friday 5 October, using 15 minutes of their lunch breaks to read at City Hall or at Leicester's Central Library.
Deputy city mayor Cllr Sarah Russell, who took part in the event, said: "People have busy lives and it's easy to forget about the simple pleasure you can get from reading. Drop Everything and Read gives everyone the chance to prioritise reading for pleasure. It also encourages adults to be great reading role models for children and young people.
"More than 150,000 local people are members of our city libraries and we're very proud of our library service, so it's great to be able to show our support for the Readathon by holding one of these events in Leicester's central library."
To find out more about Readathon, visit www.readforgood.org
To find out more about Leicester's libraries, visit www.leicester.gov.uk/libraries or follow @leicesterlibrar on Twitter.
(ends)