Finishing touches to Diwali preparations
Published on Wednesday, October 24, 2018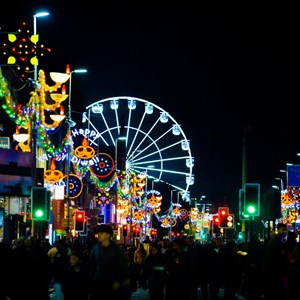 THE finishing touches are being made to preparations for Leicester's world-renowned Diwali festivities which start this weekend.
More than 6,000 sparkling lights have been installed along the city's Golden Mile, along with a 110-foot Wheel Of Light ferris wheel, ahead of the celebrations.
An illuminated archway welcoming visitors to Diwali has also been installed at the top of Belgrave Road, as a gateway bringing visitors to the site of the festivities, which are the biggest outside of the Indian subcontinent attracting about 40,000 to each of the main events.
Leicester's Diwali lights switch-on takes place on Sunday, October 28, with a Diwali Village offering arts, crafts, funfair and activities on Cossington Street Recreation Ground from 3pm to 9pm.
On Belgrave Road itself, a stage programme will showcase the very best in traditional Indian music, dancing and performance.
From 7pm there will be dancers from across the city participating in a brand new performance set on the streets of Mumbai. The show features choreography by Leicester's renowned Aakash Odedra and Curve dance associate Melanie Knott.
The programme will come to its finale with a dazzling firework display high above the Golden Mile from 7.30pm.
Visitors will be able to ride the hugely-popular Wheel of Light, giving breathtaking views out over the illuminations and the city beyond. The Wheel of Light will be in operation from October 26 to November 11.
This year's events will also include a stunning touring exhibition called Museum of the Moon, in which a fascinatingly detailed replica of the Earth's satellite will be suspended tantalizingly above the heads of visitors to Belgrave Neighbourhood Centre from October 28 to November 7.
At the same time, visitors will be able to study the stunningly-detailed Mela Rangoli exhibition of traditional Indian geometric art at the neioghbourhood centre. A programme of smaller community events will also take place during the Diwali period, ranging from art workshops and storytelling, to stage performances and family-themed events.
Additional Park and Ride bus services will be in operation for the Diwali lights switch-on. Buses will run from Birstall's Park and Ride site in Abbey Park Road from 4pm to 7pm, with return journeys departing from Abbey Park Road between 8.15pm and 10pm.
The nearest car parking in the area is the 24-hour NCP car park at Abbey Street, about 15 minutes' walk from the events. Parking is also available at the Haymarket Centre and Lee Circle. Parking around Belgrave itself will be extremely limited.
Leicester deputy city mayor responsible for culture and leisure, Cllr Piara Singh Clair said: "The build-up to this year's Diwali celebrations are almost complete, and I am very much looking forward to joining with tens of thousands of others in enjoying these celebrations.
"These events show the Golden Mile at its finest, and also bring out the best in the city and the communities who live here."
Diwali brochures highlighting all the main events are available now from libraries, museums and from the Visit Leicester information office in Gallowtree Gate.
A full programme of events is available online at visitleicester.info
(Ends)