Government funding and help to tackle pollution announced
Published on Monday, October 8, 2018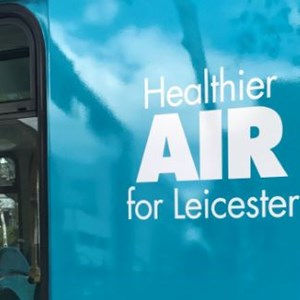 NEW Government funding to tackle air pollution in Leicester has been given a cautious welcome by the Deputy City Mayor responsible for environmental issues.
Leicester is due to receive over £600,000 from a total of £260million of funding which is being made available to cities across the UK to tackle air pollution.
Leicester City Council is one of a number of authorities across the UK calling for targeted Government funding to help cities improve air quality.
It led to a High Court ruling in February 2018 in which environmental lawyers from ClientEarth, supported by councils including Leicester, successfully challenged the Government's own air quality plans for the third time.
The city council had argued that its own progress in tackling pollution shouldn't prevent it from being able to access the funding and help available to others.
Leicester is now set to get a share of the funding to identify and tackle air pollution, as outlined in a Supplement to the Government's National Nitrogen Dioxide Action Plan.
Leicester Deputy City Mayor for the environment, Cllr Adam Clarke, said: "While I welcome the Government's decision to make funding available, it remains unclear whether this funding is enough to allow us to make the air quality improvements we are striving to make on behalf of the city's residents.
"We need to be able to set definite targets for air quality, and need to be given sufficient funding to bring forward compliance with nitrogen dioxide levels as quickly as possible.
"However while I'm grateful for this funding, it isn't yet clear whether it is sufficient to achieve that.
"We will be now be speaking with other local authorities, campaign groups and experts to determine whether this funding goes far enough to enable cities to make meaningful changes above and beyond our own work already ongoing in this area."
The Government's Joint Air Quality Unit has agreed funding to extend the council's enhanced behavioural change programme, which is designed to help encourage residents and businesses to change to more sustainable travel methods, such as car sharing, public transport, cycling or walking.
The unit has also agreed to work with the council to identify further measures to bring compliance forward.
Previous plans put forward by the Government have already been deemed illegal by courts, for failing to tackle air pollution adequately in the UK or bring it in line with EU air quality standards.
The Government had proposed setting aside £260m to help local authorities improve air quality, along with ending the sale of all conventional petrol and diesel cars by 2040.
February's High Court ruling heard that more action was still needed in 45 council areas across England and Wales, with the Government's plan described as being 'seriously flawed' in those areas, which were not expected to cut pollution to within legal levels until 2021.
Leicester City Council's own Air Quality Action Plan has already committed to delivering a clean air zone by 2026, or sooner if possible.
The action plan, launched in 2015, is leading the delivery of improvements by introducing a citywide low emission zone for buses backed by £25milllion investment from local bus companies in new and retrofitted fleets. This zone will be completed by 2021 with a commitment to implement a ultra-low emission zone covering all vehicles larger than a motorcycle at a later date.
The plan commits to extending the city's Connecting Leicester works to promote sustainable travel such as walking and cycling, with 11 schemes completed since 2015. It also helped reduce the impact of vehicle idling and inconsiderate parking outside schools.