Have a say over pavement parking options
Published on Monday, October 29, 2018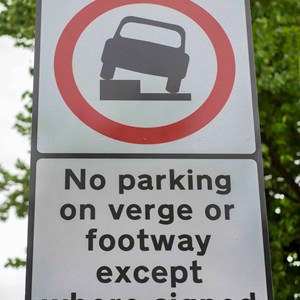 RESIDENTS are being invited to have their say over plans to allow cars to park safely on designated pavement areas in parts of Belgrave and Rushey Mead.
A consultation carried out by Leicester City Council back in 2016 showed overwhelming support among residents in Harrison Road to allow Controlled Pavement Parking (CPP) in the area.
It would mean cars are allowed to park in approved parking bays which are partly on the road and partly on the pavements, typically in streets which are too narrow for cars to be parked normally at the kerb.
Now people are being asked to give their views on a number of options being put forward by the council to tackle nuisance parking by create designated parking areas.
The options include allowing pavement parking where it can be shown to be needed and safe for pedestrians, introducing residents' only parking zones, making some two-way streets into one-way streets to allow safe parking on both sides, and creating short stay parking for shoppers close to the junctions with Melton Road.
Public meetings are being held to give people a chance to find out more.
They are taking place at the Harrison Road Methodist Church Hall at the following dates and times:
Tuesday, October 30, from 6pm to 8pm
Thursday, November 1, from 4pm to 6pm
An earlier public meeting took place over the weekend. City council officers are on hand at each of the events to answer questions and take comments.
The various options will also be available to view and comment upon, both at Belgrave Library from Thursday, November 1, and on the council's online consultation pages at: consultations.leicester.gov.uk
The month-long consultation will begin on Thursday, November 1.
Leicester assistant city mayor for neighbourhood services, Cllr Kirk Master, said: "Nuisance parking on pavements has been raised as a concern in a number of areas, especially in areas where the roads simply weren't designed for so many cars.
"Having Controlled Pavement Parking areas is one of the options we are considering, along with residents' parking and one-way streets to ease the burden on some of the worst affected areas.
"We had a very positive response to the original consultation back in 2016, and I hope the people who made their views known then also come forward to help us design a scheme this time that both addresses local concerns and ensures the roads, and pavements, remain safe for everyone using them."
A Controlled Pavement Parking scheme was introduced around Braemar Drive, Rushey Mead, in 2017, after residents demanded action over problem parking in the area. The scheme cost about £55,000 and included designated parking bays being installed to allow enough room both for passing cars and for pedestrians, wheelchairs and pushchairs to continue to use the pavements.
Details will be available from November 1 at: consultations.leicester.gov.uk
(Ends)