New exhibition tells story of women's campaign for the vote
Published on Thursday, October 25, 2018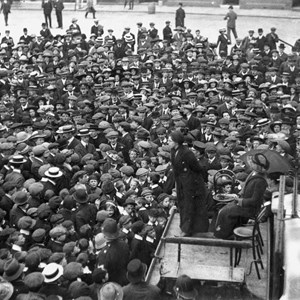 A PROGRAMME of events celebrating one hundred years of women's suffrage continues this weekend with the opening of a new exhibition in Leicester.
'Alice Hawkins & Votes for Women!' opens at New Walk Museum on Saturday (27 October) and tells the stories of some of the women who endured ridicule, harassment and often imprisonment as they campaigned for the vote.
While focusing on Alice Hawkins – the shoe factory machinist and a leading member of the women's suffrage movement in Leicester in the early 1900s – the exhibition also highlights the role played by other women in the campaign for greater equality in British society.
These include Mary Wollstonecraft, who wrote the 'Vindication of the Rights of Woman' in 1792, Millicent Fawcett, who led the National Union of Women's Suffrage Societies from 1897, Emmeline Pankhurst, who founded the Women's Social & Political Union in 1903, and Princess Sophia Duleep Singh – a prominent suffragette with royal connections.
The exhibition, produced by Leicester City Council, charts the women's progress towards equality at the ballot box, comparing the suffragists – who campaigned peacefully for women's rights – with the more militant suffragettes, who lived by their motto of 'Deeds not Words'.
It also explains how the suffragettes' campaign changed in 1914, when they redirected their energy and determination into support for the country's war effort – and how the 1918 Representation of the People Act finally paved the way for equality for men and women at the ballot box.
Heritage champion and deputy city mayor Cllr Adam Clarke said: "This exhibition takes visitors on a whistle-stop tour from 1792, when Mary Wollstonecraft wrote her 'Vindication of the Rights of Woman', right up to the present day, when we have a female prime minister and more than 200 women MPs in parliament.
"Although there are still many inequalities in our society, it's fair to say that we wouldn't be where we are now without the strength and determination of women like Alice Hawkins, who made the establishment look up and listen."
A number of artefacts, pamphlets and personal possessions will help bring 'Alice Hawkins and Votes for Women!' to life.
Items on display include Alice's Holloway brooch and her hunger strike medal – kindly loaned to the museum by members of her family.
A cudgel that may have been used for window-breaking and a board game called 'Pank-a-Squith' – a blend of Pankhurst and Asquith, the prime minister at the time – are also on display, thanks to Emmeline Pankhurst's family.
There is also a coat and skirt worn by a suffragette called Susanne Potter who chained herself to railings and was later imprisoned at Holloway, and a painting by Sylvia Pankhurst – Emmeline's daughter – depicting women in a Leicester boot factory in around 1907.
'Alice Hawkins & Votes for Women!' opens at 11am on Saturday (27 October) and continues until 24 February 2019.
Leicester is one of seven Centenary Cities marking 100 years of votes for women with a programme of special events that's supported by funding from the Government's Equalities Office.