New guide to Leicester street art launched
Published on Wednesday, October 10, 2018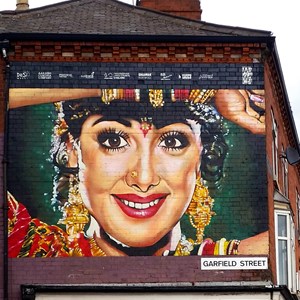 LEICESTER is home to an ever growing collection of critically acclaimed street art and a new guide has been produced to help people explore it.
The Leicester Street Art Guide has been produced by local arts collective Graffwerk with support from Leicester City Council.
It gives details of dozens of major street art murals, their locations and the artists behind them.
The award-winning Bring the Paint festival which launched in 2017 and took place in Leicester's St George's Cultural Quarter is highlighted with its own map and information about some of the 200 artists from across the world who took part.
Street art commissioned to celebrate Leicester City's against-the-odds Premier League triumph in 2016 is also given its own section to help people appreciate this special series of works that pay homage to one of the greatest underdog stories in football history.
Local grass roots graffiti art is also documented with a guide to the city's legal street art sites and advice for aspiring artists.
Izzy Hoskins, director of Graffwerk and one of the founders of the Bring the Paint festival, said: "Leicester has rich heritage of graffiti and street art and now, more than ever, the city plays host to artists from all over the world.
"This new guide will help people navigate around the city's growing street art scene from major works that showcase world class on huge walls, hidden treasures on unexpected neighbourhood streets, buzzing legal graffiti sites and the city's special street art celebration of the Foxes' legendary league win.
"We hope the new guide will help people better understand the value of street art, dispel some of the myths around graffiti art and encourage more visitors to seek out the city's incredible murals."
City Mayor Peter Soulsby said: "Leicester has some incredible street art that is worth showcasing to as wide an audience as possible.
"Graffwerk has produced an excellent, expert guide which I'm sure will encourage local people and visitors to more fully explore and enjoy this creative side of the city."
The new Leicester Street Art Guide is available to buy from the Visit Leicester Information Centre on Gallowtree Gate at a cost of £3.50.