Phoenix Cinema and Art Centre set to grow with council support
Published on Tuesday, October 23, 2018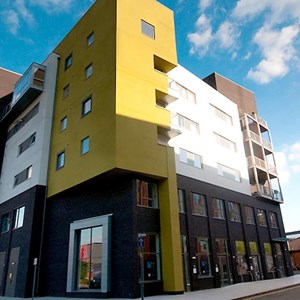 A PLANNED £7m expansion of Leicester's Phoenix Cinema and Art Centre, which will provide two new cinemas, a new bar, open-air terrace and digital art gallery, is to be supported by the city council.
Phoenix has provisionally been awarded £4.17m from the Arts Council towards its expansion – the largest allocation it's made in the East Midlands this year. The funding is subject to the centre raising the rest of the funding needed.
The Phoenix 2020 project will see the creation of a two-storey extension to the current building, taking it over the outdoor area next to the Phoenix café and onto part of the car park.
The city council has now committed £1m in funding to the expansion project, and also plans to grant a long-term lease to Phoenix for part of the adjacent car park to enable the extension to go ahead.
Deputy city mayor for culture, Cllr Piara Singh-Clair said: "Phoenix already generates around £2.6 million spending by visitors into Leicester's economy, which creates jobs and business for local suppliers in the city and county.
"Since it moved into the Cultural Quarter nine years ago Phoenix has more than doubled its visitor numbers to around 220,000 a year. This expansion will help to attract more visitors to the area and to the city and will boost Leicester's reputation as a centre for the arts and creative industries."
The council's funding will come from its Capital Programme. It is estimated that the increased income resulting from the expansion could allow the council to reduce its annual revenue grant of £215,000 to Phoenix by up to £85,000 by 2025/26.
Work is under way by the Phoenix to raise the remaining funding needed.