Programme of road resurfacing over coming weeks
Published on Thursday, October 11, 2018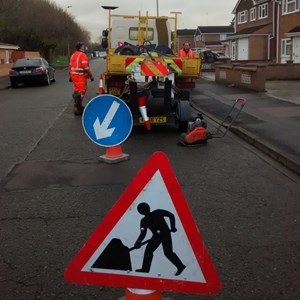 RESIDENTIAL streets across the city will have surface repairs carried out over the coming weeks as part of a programme of maintenance by Leicester City Council.
Major resurfacing work is due in Netherhall Road, while nine streets in communities across the city are due to have a range of carriageway patch repairs done to address surface cracks, potholes and other damage.
The carriageway of Netherhall Road, between Hungarton Boulevard and Rosebarn Way, will be planed and resurfaced, from Sunday October 21 to Sunday October 28. Speed humps will be removed, the road surface planed down to a depth of about 50mm, with repairs made to joints and defects, before being completely resurfaced and the speed humps re-installed.
Netherhall Road will be closed to through traffic, with local diversions signposted. Parking will also be suspended along the road to allow the work to be carried out. Letters have been sent out to local residents explaining the arrangements.
Elsewhere in the city, smaller patch repairs will be carried out on nine other streets. In each case, the works are expected to last one or two days, during which the streets involved will be closed, and parking suspended.
Work begins at Chatsworth Street, Spinney Hills, on October 15, for one day, followed by nearby Buxton Street on October 16.
On October 17, Berners Street in Highfields will be repaired between Mere Road and Melbourne Road, before work moves to nearby Shelbourne Street on October 18, and Egginton Street on October 19.
Two days of works will take place at Kingsway Road, Stoneygate, from October 22 to 24, before moving to a stretch of Evington Drive between Ethel Road and Mayflower Road, on October 24.
The final two schemes take place in Donnington Street, Highfields, on October 25, and Rushton Drive in Eyres Monsell on October 26.
The works at Netherhall Road are costing about £115,000 with the smaller schemes costing about £100,000 in total. The repairs are being funded from the city council's capital maintenance budget.
City Mayor Peter Soulsby said: "This is part of our commitment to make sure that we have the highest quality road surfaces across the city, and it is important to get as much of this work done as possible before the winter."
(Ends)