Residents welcomed to Ashton Green's first new affordable homes
Published on Wednesday, October 31, 2018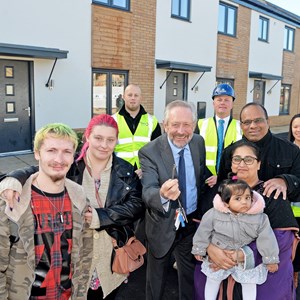 THE first residents are moving into their new affordable homes at Glebelands Park in Ashton Green, Leicester.
The 30 affordable rent properties from leading housing association Midland Heart and developer Morris Homes are part of an ambitious project to create a mixed-use sustainable community of up to 3,000 much-needed new homes, along with community and health facilities, employment land and retail.
The affordable rent development is a partnership between Midland Heart, Morris Homes and Leicester City Council. Morris Homes, which is building an additional 70 houses for sale on the 6.4 acre site, is the first home builder to build at Ashton Green.
City Mayor Peter Soulsby said: "Morris Homes was the first housing developer to commit to building at Ashton Green and I am delighted that people are now moving into these much-needed new homes.
"It's a major milestone in our ambitious vision for the sustainable development of Ashton Green, and an important step towards delivering on our plans for up to 3,000 much-needed new homes in this area.
"Along with substantial investment the council has made in new infrastructure and employment land, the commitment shown by Morris Homes has already helped build confidence and attract further investment to bring forward the exciting development opportunities at Ashton Green."
Dominic Harman, Regional Managing Director for Morris Homes said "We have been overwhelmed by the interest in Glebelands Park at Ashton Green. We forged an ongoing relationship with Midland Heart very early on at the commencement and we are now delighted to see our customers move into their new homes.
"Leicester City Council has been an excellent partner to work with as they assisted with bringing forward infrastructure which enabled Morris to start earlier on this development than originally planned. We are really proud to have been the first developer to provide new homes and help to create this new and growing community at Ashton Green."
Chris Miller, Director of Development at Midland Heart, said: "Ashton Green is part of Midland Heart's ongoing commitment to build hundreds of high quality homes every year across the Midlands in places where people want to live and at prices they can afford.
"We are delighted that our first tenants have now moved into their new homes and look forward to seeing how the exciting Ashton Green project takes shape in coming years."
Leicester City Council has already invested nearly £2million in highway infrastructure improvements to support the building of new homes.
Kier Living has been confirmed as the development's second partner for the next phase of housing, which will see another 300 new homes built from early 2019.
The council is now set to receive £10million from the Government's Housing Infrastructure Fund for further highway transport improvements that will help unlock further development in the area over the next two to three years.