Runners take to streets for Leicester Marathon
Published on Tuesday, October 9, 2018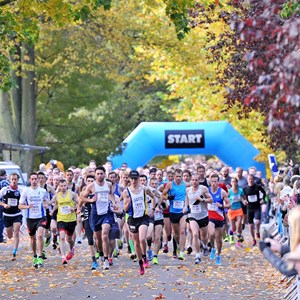 THOUSANDS of runners will be taking to the city's streets as part of the annual Leicester Marathon and Leicester Half Marathon this weekend.
The hugely-popular events, which take place on Sunday, October 14, are expected to involve about 4,000 runners ranging from club athletes to enthusiastic amateurs, as well as crowds of spectators cheering them on.
The races are run to support a range of charities including Leicester's Loros Hospice.
Both races start and finish at Victoria Park, with all runners setting off at 8.45am, and following the same route along London Road, St George's Way, Charles Street, Belgrave Gate and out of the city centre, through Melton Road, Newark Road and Wanlip Road just north of Watermead Country Park.
Half marathon runners will head back towards the city from this point, running through Watermead Country Park itself, before rejoining the road at Whiles Lane and following Birstall Road to Red Hill Circle. From there the route will take in part of Abbey Lane, Thurcaston Road and the riverside footpath down past Abbey Pumping Station Museum and the National Space Centre, to Abbey Park, St Margaret's Way ands back into the city centre via Church Gate, Highcross, High Street, Gallowtree Gate, Horsefair Street and towards New Walk, which runners will follow to the finish line in Victoria Park.
Runners doing the full marathon will continue east when they get to Watermead Country Park, following a route out a Barkby Thorpe, Barkby, and then north on to Queniborough, East Goscote, Rearsby, Thrussington, Ratcliffe on the Wreake and back towards East Gostcote, before rejoining the Syston Northern Bypass and heading south on the Fosse Way towards Syston and Wanlip.
From there the route will rejoin the same city-bound course used for the half marathon.
The last runners from the half marathon are expected to have returned to Victoria Park between 11am and midday, with all runners from the full marathon having made it back to Victoria Park between 3pm and 4pm.
There will be rolling road closures along the route to allow runners to pass safely. Signs warning motorists of disruption will be in place along the route, and letter have been sent to businesses and residents along the marathon course.
Leicester deputy city mayor for culture and leisure, Cllr Piara Singh Clair, said: "Leicester Marathon and Half Marathon are firm favourites on the city's sporting calendar, with thousands of participants and thousands more spectators coming to show their support.
"It's a wonderful event for a range of good causes, and we wish everyone taking part the best of luck. Obviously given the nature of the event, there will be some traffic delays while the runners pass by, so I'd advise drivers to consider using an alternative route during the race."
Race director Andrew Ward added: "I am looking forward to seeing all the runners take part in what is a fantastic annual event for our city.
"It is great to see so many people supporting the runners and giving lots of encouragement."
Full details of the race, and the route, are available at www.leicestermarathon.org.uk
Traffic and travel updates are available from Leicester City Council's Area Traffic Control via @ATCLeicester
(Ends)