Safe Happy Families event at city school
Published on Wednesday, October 3, 2018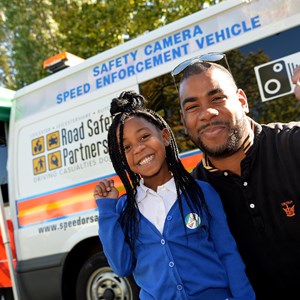 ROAD safety, school run parking, health and sustainable travel were among the themes at an event for school pupils and parents.
Montrose Primary School in Aylestone hosted the Safe Happy Families event, at which families were able to learn more about local issues including inconsiderate parking, as well as finding out about local green transport initiatives, road safety, health and fitness.
The event involved representatives from Leicester City Council alongside cycling charity Sustrans, Living Streets and Leicestershire Police.
Visitors were able to learn more about the work of City Wardens and civil enforcement officers on tackling problems of school run parking, as well as discovering the Living Streets work to encourage more children to walk to school.
Health and fitness advice was also on offer, along with a chance to showcase the results of pupils' eco-themed activities, or explore the workings of a police camera enforcement vehicle.
More than 230 parents and guardians attended the event, which took place on Tuesday, September 25.
It also saw the launch of the Choose How You Move app schools competition, in which parents can earn points for logging sustainable travel, as well as earning reward points for the school by walking or cycling.
Aylestone ward councillor and deputy city mayor, Adam Clarke, was among those attending the event.
He said: "This event has given parents the chance to find out more about the work going on to help make their area safer and cleaner, as well as learning about alternative ways to travel to school.
"It was encouraging see such a large number of people attending, and getting information on a wide range of local issues including sustainable transport, road safety and environmental issues."
(Ends)