School rises to poppy-making challenge
Published on Thursday, October 18, 2018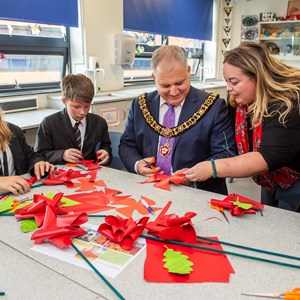 STUDENTS at a Leicester secondary school are making 1,000 giant poppies that will play a key role in the city's Remembrance Day commemorations next month.
Poppies made by students at Beaumont Leys School will be held by children lining the parade route to the Arch of Remembrance in Victoria Park on Sunday 11 November – the centenary of Armistice Day.
The school was quick to respond to the city council's call for volunteers to turn squares of red fabric into large poppies for Remembrance Day, with staff at the school keen for their students to take part in the centenary commemorations.
Team leader for creative arts Deb McCallum said: "As an art teacher, the idea of making poppies appealed to me – and I thought it would be a great way to get our students to mark Remembrance Day.
"I spoke with the history department and the Learning for Life coordinator and we decided that we'd try to get every child in the school to make a poppy.
"When we put all of our poppies together, they will create quite an eye-catching display that will help to remind our students that this is our history."
The Lord Mayor of Leicester Cllr Ross Grant dropped in to the school yesterday (Wednesday) to join students from years 7-11 at their poppy-making session.
"We're very grateful to the students and staff at Beaumont Leys School for their huge contribution to our poppy-making appeal," he said.
"The poppies they make will join those being made by other schools and Guide and Scout associations around the city.
"Thanks to the generosity of all our volunteers, we hope to be able to line the parade route with a significant number of poppies on Remembrance Day, creating a 'Walk of Poppies' that will help us to mark this important centenary."
The Lord Mayor's office invited schools and young people's organisations to take part in poppy-making activities earlier this year. Those who wished to participate were provided with all the materials they needed to make the poppies, together with simple step-by-step instructions.
Beaumont Leys School is one of a number of organisations supporting the city council's poppy-making appeal. Others helping to make poppies include: 1st Aylestone Brownies; 28th/61st Wigston Scout Group; Avenue Primary; Belgrave St Peter's Primary; Braunstone Community Primary; Caldecote Community Primary; Children's Hospital School; Dovelands Primary; Ellesmere College; Holy Cross Primary; King Richard III Infant & Nursery; Overdale Infants; Rowlatts Hill Primary; Sandfield Close Primary; Scraptoft Valley Primary; Sparkenhoe Community Primary; St John the Baptist Primary; St Patrick's Primary; St Thomas More Primary; Uplands Academy; Queensmead Primary; 86th Scout Group Leicester.
Photo caption: The Lord Mayor of Leicester, Cllr Ross Grant, joins students and staff at Beaumont Leys School at their poppy-making session