Essential repairs planned to Turret Gateway
Published on Tuesday, September 11, 2018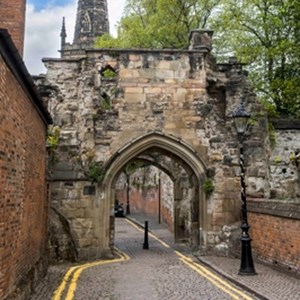 THE cobbled street under a historical city landmark will be closed temporarily next week, to make way for essential repairs.
A programme of work is to be carried out on the Turret Gateway, in Castle View, off the Newarke. The gateway leads through to Leicester Castle.
The 15th-century gateway, which is Grade I listed, needs essential repairs to ensure the structure doesn't deteriorate any further, particularly after being exposed to the elements during the harsh weather last winter.
Access for pedestrians under the gateway will not be allowed while scaffolding is put up. Once the scaffolding is up, a covered walkway will be constructed for pedestrians, and access will be restored.
The scaffolding will be put up from Wednesday 19 September until Thursday 4 October. Access will then be restored while work is carried out on the gateway, which is expected to take around 16 weeks.
A further closure will be needed at the end of December, or early in January next year, to allow for the scaffolding to be removed.
Deputy city mayor Cllr Adam Clarke said: "It's very important that we enhance and protect our listed monuments, as they are part of the city's heritage. We have an obligation to preserve them for future generations.
"This essential work will mean pedestrian access to the castle has to be closed off for a while, but this will be restored while the majority of work is carried out."
Diversion signs will be in place to guide pedestrians while the street is closed, and people living or working close to the site have been notified of the closure.
The work is expected to cost around £150,000, with the money coming from the city council's capital budget.
The Turret Gateway was built in 1422-23 and was the main gateway to the inner bailey of Leicester Castle from the Newarke. The Newarke – whose name means New Work – was a wall built around the outer castle bailey in around 1330 by Henry, Earl of Lancaster.
(ends)