Free zumba classes move to Friday lunchtimes
Published on Thursday, September 13, 2018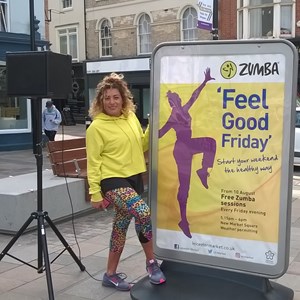 LEICESTER Market's free Friday zumba classes are moving to lunchtimes so that more people can join in.
From tomorrow (Friday 14 September), the outdoor classes on the new market square will run from 12:30pm to 1:15pm.
The free lunchtime sessions will continue every week until Friday 12 October, weather permitting.
There'll be one final teatime session tomorrow at 5.15pm, so that anyone unaware of the changes to the programme isn't disappointed.
Certified instructor Leona Knott – who leads the zumba sessions – hopes that the new lunchtime slot will encourage more people to have a go.
"I've had lots of good feedback from people, with everyone saying that they love the music and the classes make them feel good," she said.
"But they've also told me that they'd be more likely to come, if the sessions were at lunchtimes.
"The biggest turn-out we've had so far is 15 – but it would be great if we could attract a few more to our new lunchtime sessions."
Everyone is welcome to the free zumba classes and there's no need to book your place – just turn up in trainers and suitable clothing.
Featuring aerobic moves, dance steps, squats and lunges – all performed to high-energy music – the zumba classes are suitable for all ages and all abilities.