Loughborough Road Bridge reopening delayed
Published on Monday, September 24, 2018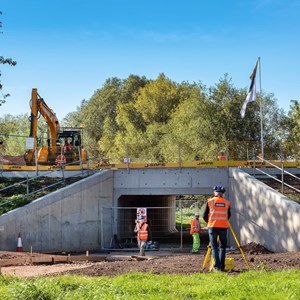 A LEICESTER bridge will remain closed for another four weeks as vital flood risk work continues.
Loughborough Road Bridge, over the River Soar in Belgrave, is due to remain closed to traffic until Sunday 21 October.
The road closure is required while the installation of a major new flood water culvert and subway is carried out.
The vital work is part of a £5million project being managed by the Environment Agency in partnership with Leicester City Council. It will reduce flood risk to over 600 homes and businesses in the nearby Belgrave and Abbey Meadows areas.
Paul Lockhart, area flood risk manager at the Environment Agency said: "Firstly, we'd like to apologise for the delay in reopening the bridge. We understand that the road closure has caused disruption in the area and we are doing everything we can to get it opened for traffic as soon as possible.
"We have experienced a significant delay in getting a major telecommunications cable diverted and that is the reason for the delay.
"This is a very important and complex project that, once complete, will help reduce the risk of flooding to hundreds of Leicester homes and businesses"
Martin Fletcher, city highways director at Leicester City Council, said: "This is a complicated project with huge local benefits but we recognise that the delay in reopening the bridge will be disappointing for motorists.
"We will be working closely with the Environment agency to ensure that we can reopen the road to traffic as soon as possible. In the meantime, we will continue to monitor the impact on traffic closely and make whatever adjustments we can to help minimise the inevitable delays at busy times."
The new five metre-wide culvert will act as a bypass for flood water, helping to significantly reduce flood risk to hundreds of nearby properties. It will also act as a subway on a new riverside cycleway that is being created as part of the project.
An inbound lane closure has been in place at the bridge since work started in January 2018. The full road closure has been in effect since mid-July.
The Loughborough Road Bridge flood relief scheme is being delivered on behalf of the Environment Agency. It has been designed by global engineering experts AECOM and is being carried out by Jacksons, one of the largest civil engineering contractors in the UK.