Nearly 1,000 streets covered by 20 mph zones in city communities
Published on Tuesday, September 25, 2018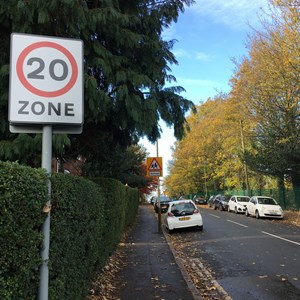 ALMOST 1,000 streets in communities across Leicester are now covered by 20mph zones as part of a rolling programme to introduce them where requested by residents.
Since 2011, Leicester City Council has been rolling out a comprehensive programme of traffic calming measures and speed restrictions in residential streets – often near to schools – where residents have called for action to improve road safety.
The programme of 20mph zones now comprises 58 completed schemes which are currently in operation, covering 926 individual streets and over 190km of road.
Additional schemes, such as the recently-approved work at Belgrave St Peters and the proposed scheme at Downing Drive, Evington, will take that total to 1,000 streets and 200km of road – around a third of the city's overall number of roads, and about 20 percent of the entire length.
The speed-reduction work is designed to help improve road safety on key routes in residential areas near to schools, and in turn to help encourage more people to walk or cycle to school.
So far, over £1.1million has been invested on city council- funded 20mph zones, as well as others funded by developers as part of local planning agreements.
A small number of schemes were put place in the 1990s and 2000s, but were brought together under a wide-ranging programme of works following Peter Soulsby's election as City Mayor in 2011.
Currently, of 114 schools across the city, 62 per cent are either within a 20mph zone or being considered for inclusion in one in the near future. A number of further 20mph zones are also being planned for a future programme of work.
Department for Transport figures show that for every 1mph reduction in speed, the frequency of accidents drops by five per cent.
Figures for the scheme covering Knighton Lane East show among the biggest drops in speed – average speeds have fallen from 26.2mph to 15.7mph since the introduction of road humps, speed cushions and a designated 20mph zone in 2017.
Similarly, the scheme bringing speed cushions and a 20mph zone to Keyham Lane has reduced speeds from 26mph to 21mph.
City Mayor Peter Soulsby said: "Since it began in 2011, this programme of introducing 20mph zones in areas where residents have requested them has been rolled out to benefit communities across the city.
"In some cases, they have extended or improved existing traffic calming measures, and in others they have introduced new measures where local residents have flagged up a specific problem to their ward councillors.
"In each case, we have consulted fully with businesses and residents to gauge the level of support and worked with them to design schemes for their particular area.
"The speed reductions resulting from this work are a big step forward in making the city's streets safer for everyone who uses them."
(Ends)