Two weekends of events shining spotlight on city's heritage
Published on Wednesday, September 5, 2018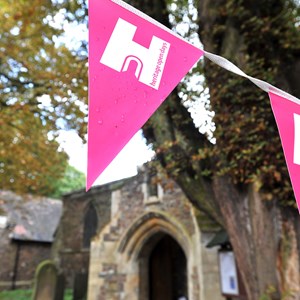 DOZENS of historic sites across Leicester will be opening their doors to the public over the next two weekends for a programme of Heritage Open Days.
Buildings not normally accessible to the public will be allowing visitors behind the scenes, with guided tours and talks at some of the city's best known landmarks.
There will also be a chance to visit the work of an award-winning volunteer-led city council project to digitally archive thousands of photographs of Leicester's past.
The first weekend of events runs from Thursday, September 6, to Sunday, September 9.
Highlights include 'Exploring the Archives: Leicester in Photographs', which showcases the work done to preserve and catalogue thousands of previously-unseen images of the city over the last 70 years. It takes place at the Guildhall, on Thursday, September 6, from 11am to 4pm.
Visitors will also be able to explore the Greyfriars area of the city on a guided walk, looking both at the forgotten historical gems and plans to preserve and regenerate the area.
Winstanley House, in Braunstone Park, will open to visitors wanting to explore its historic grounds and view the recent transformation which has brought the once-derelict building back to life.
All Saints Church – one of Leicester's oldest surviving medieval buildings – will be showcasing its War Memorials Project throughout the weekend, as one of a series of places of worship opening to visitors during the events.
Elsewhere, there will be guided tours behind the scenes of historic sites including the Town Hall and City Hall, Magazine Gateway, De Montfort Hall, Stoneygate Tram Depot, Welford Road Cemetery, and the Glenfield Railway Tunnel.
More contemporary sites, such as Maker's Yard, LCB Depot, Leicester Synagogue, and the University of Leicester will also be turning the spotlight on their architecture and history.
The second Heritage Open Days weekend takes place from Thursday, September 13, to Sunday September 16.
Again it will comprise a programme of history-themed tours, talks, open events and visits to heritage venues across the city.
Leicester City Mayor Peter Soulsby said: "Heritage Open Days present a wonderful chance for people to discover more about Leicester's remarkable 2,000-year history.
"There are numerous new events this year, such as the 18th century grand tour by the Leicester Georgian Interest Group, the Georgian walking tour and the chance to see the fantastic work that's taken place archiving historic images of the city.
"I hope people take this opportunity to discover more about their city and its fascinating past."
Visitors can drop in to many events across both weekends, but others need to be booked in advance.
A brochure containing a full timetable of all Heritage Open Day events is available from Visit Leicester in Gallowtree Gate, as well as from museums, libraries and the city council's Customer Service Centre in Granby Street.
Further details are also available at: www.heritageopendays.org.uk
(Ends)