Work starts on improved walkway to Leicester Market
Published on Tuesday, September 18, 2018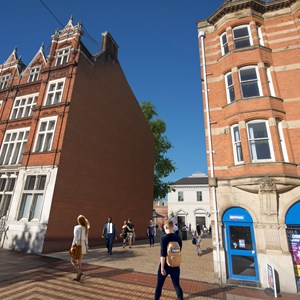 A SCHEME that will replace the dingy alleyway between Horsefair Street and Leicester Market with a welcoming new walkway gets under way tomorrow (Wednesday).
Contractors working for the city council will start preparing the site by putting up hoardings around the area and closing the existing cut-through to Dolphin Square.
The vacant property at 15 Horsefair Street will then be demolished to make way for a wider, and more inviting, pedestrian link between Town Hall Square and Leicester Market.
City Mayor Peter Soulsby said: "This scheme presents us with an exciting opportunity to make some much-needed improvements to this part of the city centre.
"By demolishing the unattractive building at 15 Horsefair Street, we will be able to create a much more welcoming route between Leicester's historic Town Hall and our Grade II* listed Corn Exchange – and provide a much-improved gateway to our famous outdoor market.
"The scheme will also do away with a dingy, unpleasant cut-through, which has had a reputation for anti-social behaviour for some time."
The new walkway will be finished in high-quality materials to match those used on the recently completed new market square.
Demolition will be complete in November, with the £500,000 scheme due to be completed in early 2019.