Get ready for Walk Leicester
Published on Friday, April 26, 2019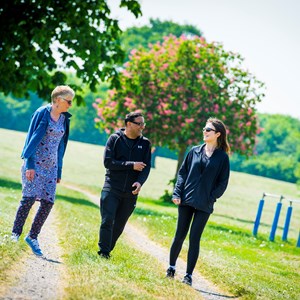 A MONTH-LONG walking festival showcasing Leicester's heritage, history and green spaces gets under way this weekend (28 April).
The Walk Leicester Festival runs from 28 April until 31 May and features a variety of walks for all ages and abilities – all of which are free to join.
After last year's successful event, which saw more than 3,000 people taking part in walking events, Walk Leicester will once again be demonstrating the benefits of leaving the car at home and walking in the city, where an extensive network of paths and city streets make it an easy and attractive option.
Among the walks on offer are a Star Wars quiz trail at Braunstone Park, a walk around the city centre's cultural landmarks and an event called Funky Feet and Whacky Wheels at Abbey Park, where children are encouraged to decorate their shoes, scooters or bikes for a colourful parade.
There are also historical walks telling the stories of the Golden Mile and the Imperial Typewriters strike; outdoor gym demonstrations at city parks; and a walking sports festival at the Morningside Arena, which will showcase walking basketball, cricket and football.
The festival will kick off with Open Streets on Sunday 28 April. This celebration of some of Leicester's recently regenerated streets starts at New Market Square, with a walk telling the history of the Greyfriars area starting at 1pm. Another walk, at 3pm, will visit places associated with some of Leicester's remarkable Suffragettes.
Many of the walks on offer are suitable for wheelchair users and pushchairs. Walkers who join in with the festival and download the Betterpoints app can also enter a free weekly prize draw to win points that can be exchanged for high street vouchers. For more details, visit the website below.
Pick up a festival leaflet from your local library, community or leisure centre, or from Visit Leicester in Gallowtree Gate. You can also find out more about the festival at http://www.choosehowyoumove.co.uk/walkleicester
(ends)