Housing apprentices head to Malta to share their expertise
Published on Monday, April 1, 2019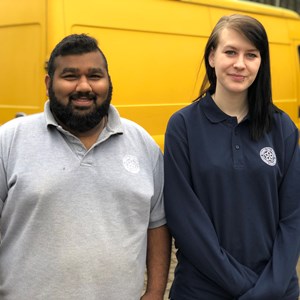 APPRENTICES in the city council's housing department are heading to Malta to encourage others to take up apprenticeships.
Two apprentices – Alanis Thomas and Sufyaan Shaikh – will be flying to Malta later this month (April) to spend a week talking about their experiences, telling their success stories and sharing their skills and knowledge.
The trip is part of the Erasmus scheme, a European student exchange programme that allows students to travel to universities and educational institutions abroad to supplement their learning. The trip has been organised by Leicester City Council and Leicester College, where the apprentices study.
The apprentices will meet with Aaron Farrugia, the parliamentary secretary for EU funds and social dialogue, as well as meeting representatives of the Erasmus scheme and adult education schemes in Europe. They will be taking part in presentations and workshops covering topics such as diversity and team-building, as well as visiting local businesses to share experiences with them.
Alanis and Sufyaan, both aged 22, were chosen for the trip by Leicester College due to their hard work, commitment, ability and enthusiasm for their apprenticeship courses, which are in property maintenance.
Alanis said: "I'm really excited to be going on this trip and advertising the amazing apprenticeship that I've been on. I hope to learn more about local Maltese culture and other people's experiences of their apprenticeships."
Sufyaan added: "I feel so privileged to have the opportunity to go to Malta as a euro apprentice.  I am looking forward to meeting new people and learning about their Erasmus experience.  As a property maintenance operative, I am learning so many new skills and experiences and I am excited to share them with others."
The city council's housing department currently has 30 apprentices on a variety of courses.
Every Easter, the department runs a free Women In Construction taster course, offering women the chance to try out a variety of craft trades such as carpentry, plastering, plumbing and electrics. They then get the chance to apply for apprenticeship places.
And initiatives such as the council's Neighbourhood Improvement Scheme have helped jobseekers by offering a rolling programme of 10 six-month contracts and 10 12-month contracts, teaching the sort of practical skills they might need to go on to a job in construction.  Since 2016, the city council has offered 95 jobs through this scheme, as well as 49 apprenticeships.
City council director of housing Chris Burgin said: "Providing apprenticeship training opportunities means we invest in local people and the local economy, as well as ensuring we have the skills we need to maintain our stock of around 21,000 council properties.
"It's great that these two hard-working apprentices will get the chance to share what they've learned with other European students."
Neil McManus, programme area manager for construction at Leicester College said: "We give students on full-time study programmes and apprenticeships the opportunity to go on a work placement in Spain or Portugal. It gives them a unique chance to develop their trade skills and work more independently, while also experiencing what it's like to live abroad.
"All of this helps them to be more employable when they complete their courses."
To find out more about apprenticeship opportunities in Leicester, visit www.leicesteremploymenthub.co.uk
(ends)