Motorists reminded about overnight closures on London Road
Published on Friday, April 5, 2019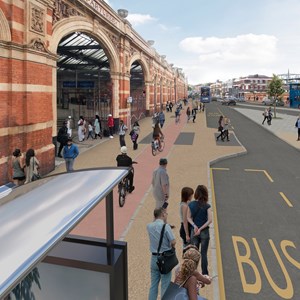 MOTORISTS are being reminded about a series of overnight closures that will be taking place on stretches of Leicester's busy London Road next week.
The closures are required for resurfacing to be carried out at two of the road's busiest junctions, as part of ongoing work on a £3.9milllion improvement scheme.
Work will be carried out overnight – between 7pm and 6am – and in a series of short phases to minimise disruption.
The first phase will begin on Monday 8th April for three consecutive nights. This will involve the closure of London Road inbound between De Montfort Street and its junction with Waterloo Way. There will be no access to Waterloo Way at this junction from London Road during the works.
Some nearby side roads will also be affected.
Clearly signed alternative routes will be in place. Through-traffic that would normally use London Road inbound will be rerouted at Mayfield Road roundabout, and traffic heading towards Waterloo Way from St George's Way will also be diverted.
Local diversions will be in place on London Road for people accessing the area. Some evening bus services will need to use alternative routes during the night time closures.
A second phase of work will take place on part of the Waterloo Way stretch of the inner ring, which will be closed to traffic in one direction eastbound (anti-clockwise) from its junctions with South Albion Street to East Street.
The closures will take place overnight on Thursday 11th, Saturday 13th and Monday 15th April.
Alternative routes for London Road inbound traffic will be clearly signed. Diversions will also be place for traffic leaving East Street and South Albion Street. Evenuing bus services will also be affected.
Work will then move to the outbound lanes of London Road, outside the railway station. This will involve overnight closures of London Road/Waterloo Way outbound Campbell Street to Prebend Street.
The closures here are due to be in place on Tuesday 16th, Wednesday 17th, Thursday 18th and Tuesday 23rd April.
Clearly signed diversions will redirect traffic at St George's Way roundabout.
The railway station forecourt will be closed to traffic during this phase of work, so an alternative temporary drop-off point will be in place on Campbell Street. Evening bus services will use alternative routes and hackney cabs will operate from Conduit Street.
Works will then move to London Road's junctions with Evington Road and Granville Street from late April.
The London Road improvement scheme is revamping the busy route between Granby Street and the Mayfield Road roundabout to create a safer and more appealing route for pedestrians and cyclists.
The project is backed by £1.2million from the European Regional Development Fund.
Work is being carried out on behalf of the city council by Eurovia, one of the world's leading transport infrastructure construction and development companies.
For more information visit www.leicester.gov.uk/londonroad