Saddle up for the Easter Bike Jam
Published on Friday, April 12, 2019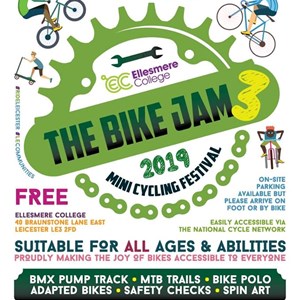 CYCLISTS of all ages and abilities are being invited to take part in a celebration of pedal power, as Bike Jam returns to Ellesmere College next week.
The event – which takes place on Tuesday 16 April – is free to attend and offers a gentle introduction to a whole range of bike-based fun.
People and have a go on the BMX pump track, try their skills on a mini mountain bike trial and learn how to play bike polo.
There will also be free bicycle safety checks and a chance to try out a fleet of adapted bikes. B*Buddies will have trainers on-hand to help teach children how to ride and there will also be a chance to create some pedal-powered spin art.
George Pollard, Sustrans neighbourhood cycling officer and event organiser, said: "Thanks to the success of our previous Bike Jam events, Ellesmere College has been kind enough to share their amazing facilities with the community once again. There will be something for all the family and the Easter break is the perfect chance to join in the fun."
The Bike Jam takes place at Ellesmere College, 40 Braunstone Lane and runs from 11am to 3pm.
Bike Jam is part of the Ride Leicester programme, organised in partnership with Ellesmere College, Sustrans, Leicester City Council and projects across the city promoting cycling and walking for all ages and abilities.