'Youth Power' project launches to support teens in Leicester
Published on Thursday, April 25, 2019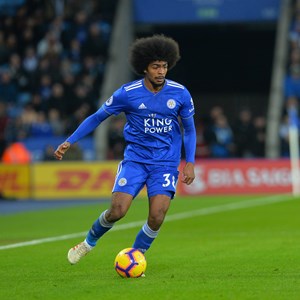 A youth project by Leicester City Football Club, Leicester City Council and De Montfort University is being launched today (25 April) – with the help of City midfielder Hamza Choudhury.
Youth Power (aptly-named by participants) will see a host of activities taking place at Kingfisher Youth Centre, in Boulder Lane, Leicester.
Activities will include Caribbean cooking, UV table tennis (where the tables are lit with ultraviolet lights), anti-knife crime workshops, zorbing and an outdoor climbing tower.
The event will culminate in an awards ceremony, recognising young people's achievements through youth provision, and a special award - dedicated to the life of city teenager Kai Podgers - will be launched, following his untimely death in 2018. 
Guests will include young people participating in 'Youth Power' and Leicester City Council youth service sessions, and representatives from Leicester City Football Club, including midfielder Hamza Choudhury. 
'Youth Power' is a partnership between Leicester City Community Trust, Leicester City Council's youth service and De Montfort University, who worked collaboratively to secure funding for the project.  
Premier League and Professional Footballers Association (PLPFA) funding is enabling the delivery of eight sessions of quality, high-impact, open access youth work for 48 weeks of the year, targeting 800 young people.
LCFC Community Trust provides youth workers to support sessions, Leicester City Council's youth service offers expertise and a proven track record, while DMU provides student placements from its Youth and Community Award.
Jaye-Leigh, age 15, has been attending youth sessions for the last two years and has recently been referred for targeted youth support. She also took part in a 'Youth Power' residential weekend.
Jaye-Leigh has previously been involved in anti-social behaviour on her local estate.  She said: "If it wasn't for my local youth centre, I would be in a lot more trouble."
Allison Tripney, Head of Community at Leicester City Football Club said: "We are incredibly grateful to our funders, the Premier League Professional Footballers Association (PLPFA) and Leicester City Football Club's support, which enables us to deliver a comprehensive programme of positive activity that engages and impacts on young people in Leicester."
Samantha Merry from the city council's youth service said: "We've developed a strong relationship with Leicester City Football Club and we're delighted to be working with them on this project, with support from students and staff on De Montfort University's Youth and Community Award. 
"LCFC's funding for new youth worker posts means we'll be able to expand what we offer, providing an extra eight youth club sessions each week in a partnership we're calling 'Youth Power'.
"The skills and experience the football club can bring will complement the skills of our specialist youth workers, benefitting young people from across the city. We very much value their contribution."
Leicester City Council's youth service works with young people aged 13 to 19 and with young people aged up to 25 with special educational needs and disabilities. It provides open-access youth clubs, street-based youth work and targeted support for young people across the city, as well as specialist sessions for young people with additional needs. The service also provides support for young carers, refugees and asylum-seekers, and LGBTQ young people. One-to-one counselling sessions are also part of the service.