Campaign launched to increase citywide foil recycling rate
Published on Monday, August 19, 2019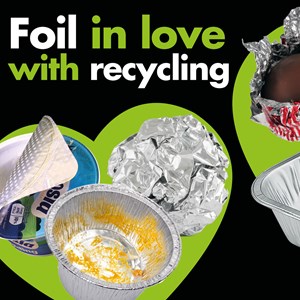 PEOPLE in Leicester are being encouraged to recycle more household aluminium as part of a month-long 'Foil in Love with Recycling' campaign.
Leicester City Council has teamed up with Alupro – the aluminium packaging recycling organisation – to help get residents to recycle more of their aluminium foil trays and wrapping foil.
Anyone living in the city can easily recycle used aluminium foil by putting it in their orange bags or recycling bins. However, only 20 per cent of the foil thrown away in Leicester is currently put into the recycling.
On average, each home in Leicester uses about 1.8kg of foil each year.
Jodie Angold, Leicester City Council Recycling Officer, said: "The orange bag scheme has made it really easy for people to recycle a wide range of household waste, but foil often gets forgotten about, or people simply don't know it can be recycled.
Rick Hindley, executive director at Alupro, said: "It's surprising how much foil we use in our homes, from ready meal and takeaway trays, to chocolate wrapping foil and yogurt pot lids. All of these aluminium items can be recycled."
As part of the campaign, the city council is offering the following tips and advice:
A simple way to test if a material is recyclable foil or not is to do the 'scrunch test'. If it stays 'scrunched' then it's aluminium foil and can be recycled. If it springs back, it's metallised plastic film and cannot currently be recycled.
Make sure foil is free from food residue by giving a quick wipe or rinse in your washing up bowl before you pop it into your orange bag.
For smaller pieces of foil – such as yogurt lids or chocolate foil – please scrunch these together to make larger ball of foil, about the size of a tennis ball.  This will keep the foil together and make it easier to recycle.
Aluminium foil is endlessly recyclable and making products from recycled aluminium uses only five per cent of the energy it takes to make new foil from raw materials. More foil recycling tips will be posted on the Leicester Recycles Twitter account @orangebagleics over the coming weeks.
The 'Foil in Love with Recycling' campaign is run by Alupro – a not-for-profit organisation which works to help meet the aluminium packaging industry's obligation to achieve and exceed recycling rates for aluminium packaging, current set for 64% by 2020.
The campaign is funded by the European Aluminium Foil Association, which seeks to improve the aluminium recycling rate across Europe.