City Festival brochure now available
Published on Friday, August 9, 2019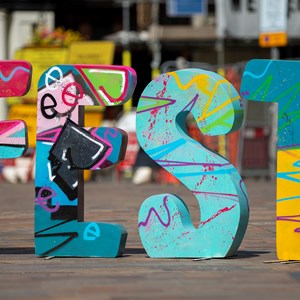 ART, performance and space travel will be taking centre stage in a huge programme of free, family-friendly events at this year's City Festival.
The festival, which runs from August 19 to 26 in Leicester, will bring an incredible range of activities, attractions and entertainment to the city centre.
Each day will see free events in and around Jubilee Square, the city centre and a programme of space-themed activities at the National Space Centre to tie in with the 50th anniversary of the Apollo 11 Moon landing, while in the evenings live music, comedy and Bollywood celebrations will bring the city alive.
A brochure detailing all the City Festival 2019 events is now available online, and at outlets including the Visit Leicester tourist office in Gallowtree Gate, libraries, and the Customer Service Centre in Granby Street.
Deputy City Mayor for culture and leisure, Cllr Piara Singh Clair, said: "With the start of this year's City Festival less than two weeks away, it's a good time to check out the timetable of events and activities on offer.
"With many of the events being free, there's something for all the family to enjoy, to get into the festival spirit and enjoy the best of what Leicester has to offer."
Attractions this year include street performers giving a comical interpretation of the human senses, including a singing ear, tap dancing eye and a running nose, alien creatures who appear to mirror the world around them, and an interactive acrobatic show giving the illusion of flying.
Visitors to the National Space Centre will also be able to explore the world of astronauts, meteorites and space science, as well as experiencing the thrills and spills of the Apollo launch in virtual reality.
Local artists will be displaying their works in Jubilee Square during the Art in the City initiative, while StudioAme will be running art classes and activities with some of the city's finest creatives, covering everything from ceramics and drawings to graffiti and 'sound art'.
Swing music will once again be getting people dancing, with the Broken Records Swing Festival, pairing 1950s dancing with the best live big band music.
Let's Ride Leicester will give visitors the chance to cycle through a traffic-free route taking in the city's sights, accompanied by Filbert Fox, Richard III and Alice Hawkins. Throughout the festival, artisan street food traders Canteen will be serving up mouth-watering hot foods and desserts.
Each evening the purpose-built Dome venue in Jubilee Square will become the stage for a programme of live music and comedy featuring big names including British Sea Power, BC Camplight and The Urban Voodoo Machine, and comedians Lloyd Griffith and Matt Hollins among others.
Bollywood musicals will also take centre stage for an evening, celebrating the sights, sounds and songs of Indian cinema.