Don't miss out on Healthy Start vouchers
Published on Thursday, August 22, 2019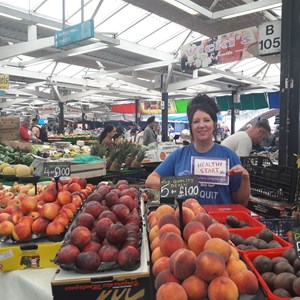 FAMILIES on a low income are being urged not to miss out on weekly Healthy Start vouchers that can be spent on fruit, vegetables and milk.
The vouchers can be exchanged at lots of shops across the city including large supermarkets and local stores – as well as at some stalls on Leicester and Beaumont Leys Markets.
Vouchers can be exchanged for plain fresh and frozen fruit and vegetables, plain cows' milk and infant formula milk. Free vitamins are also available. Always check with a retailer before getting to the till to check they accept the vouchers.
Families on certain benefits or a low income could qualify for the vouchers if they have a child under the age of 4.
Women who are on certain benefits or a low income could qualify from when they are 10 weeks pregnant, and pregnant women under the age of 18 qualify for the vouchers even if they are not receiving benefits.
Application forms for the vouchers are available from children's centres, midwives and health visitors, or you can find one online on the Healthy Start website, www.healthystart.nhs.uk.
Ensuring take-up of Healthy Start vouchers is one of a number of initiatives the city council is working on to reduce the impact of poverty, improve lives and help children to reach their full potential.
Deputy city mayor Cllr Sarah Russell, who leads on anti-poverty, said: "Healthy Start vouchers are an important way to ensure families on low incomes can access fruit and veg for their kids, to make sure they get the best start in life.
"It has been predicted by the charity 'Sustain' that more than 13,000 people in Leicester missed out on Healthy Start vouchers in 2018.
"We want to make sure everybody who is entitled to these vouchers takes them up and makes use of them at the many shops and major retailers across the city that accept them."
For more information on the scheme, visit www.healthystart.nhs.uk
 (ends)