Footballer sculpture is Kicking it to Plastics
Published on Friday, August 16, 2019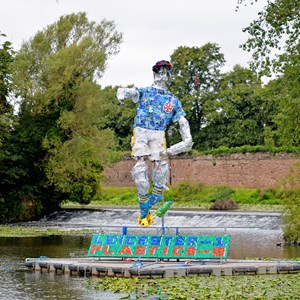 There's a new addition to LCFC's squad this season – and he's made entirely out of plastic!
A six-metre tall sculpture of a footballer, created from waste plastic found in Leicester's waterways, has been unveiled in Abbey Park. It's accompanied by a scoreboard – reading Leicester 1, Plastics 0 – which was created from more than 9,000 plastic bottle tops by students at Ellesmere College.
It's the result of the Kicking it to Plastics project, run by environmental rangers in the city council's parks team, with support from Leicester City in the Community and Trent Rivers Trust. It follows the successful River Monster project last year, which saw a Loch Ness-style 'monster' sculpture created from waste plastic recovered from the city's waterways.
Plastic litter was collected from rivers, streams and canals by the Leicester Environmental Volunteers, the National Citizens Service, football club volunteers and corporate groups over the course of the summer before being cleaned, sorted and transformed into art.
Plastic which ends up in waterways contributes to flooding and pollution, endangers wildlife and spoils the natural landscape.
Deputy city mayor and lead on the environment Cllr Adam Clarke said: "One of the most visible and troubling signs of the climate emergency we're all facing is the amount of plastic waste that is finding its way into water courses, eventually ending up in the ocean.
"This litter can also cause flooding, so it has the potential to have a huge negative environmental impact.
"We're lucky to have lots of committed volunteers in Leicester who want to help, including young people from the National Citizens Service and the Leicester Environmental Volunteers, who work with our parks team to clear litter from rivers and waterways in the city.
"This project is an innovative way of highlighting and tackling the problem, by turning plastic waste into art."
The sculpture will be situated on the river at Abbey Park until October, before being recycled.
Around 2,250 tonnes of plastic were recycled in Leicester last year, with each household in Leicester using an average of 17kg of plastic bottles each year.
Jamie Skinner, education manager at Leicester City in the Community, said: "As an organisation we are really pleased to be working in partnership with Leicester City Council in supporting the Kicking it to Plastics project. Plastic pollution in waterways is a contributor to ocean waste, so this is a great opportunity to raise awareness of the issue and positively change behaviours around the recycling of plastic."
This is one of a number of actions being carried out by the city council to tackle the climate crisis.
Experts now predict that unless drastic action is taken, we are less than 12 years away from global heating becoming irreversible, with catastrophic results. In response, Leicester City Council declared a climate emergency in February 2019.
Local initiatives such as creating more cycle lanes in the city, improving bus services, setting up a renewable energy company, installing more solar panels on council buildings and promoting take-up of electric vehicles are already under way.
The council also plans to consult on charging employers with parking spaces and investing this income in schemes to further reduce transport emissions.
With Government support, the city council could be on track to be carbon neutral before 2030.
(ends)