Investment in road repairs across city neighbourhoods this summer
Published on Friday, August 23, 2019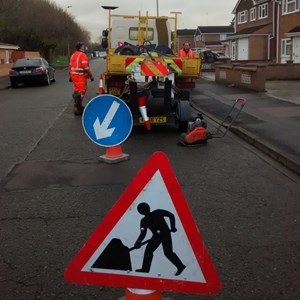 REPAIRS to roads in neighbourhoods across the city are taking place over the coming weeks as part of Leicester City Council's annual capital maintenance programme.
The city council is carrying out the works, including resurfacing, patch repairs and other improvement and maintenance works over the next two weeks.
Patching repair works will be carried out first of all, at five sites, starting this week.
Around £20k is being spent on patching work at Vernon Street, Newfoundpool, on Friday, August 23, while on Sunday, August 25, patch repairs costing about £16k will be done at Astill Lodge Road, Beaumont Leys.
Balisfire Grove in Beaumont Leys will be next to benefit, with £26k worth of repair works carried out there on Tuesday, August 27 and Wednesday, August 28, while the Coleman Road slip road/Barnes Heath Road area will undergo £25k worth of repairs on Wednesday, August 28.
Lastly, £13k will be spent on surface repairs at Vicarage Lane in Humberstone on Thursday, August 29.
In each case, the works will last one day, and there will be road closures on the roads involved, except for Barnes Heath Road which will remain open under 'stop-go' traffic management.
A later phase of works starting on September 1 will involve further patching work and repairs or replacement of humps at Aylestone Drive, Humberstone Lane, Marwood Drive and Jarrom Street, totalling around £14k.
The work is part of Leicester City Council's annual capital maintenance programme, which this year is investing almost £2.5million on repairs across the city.
Leicester assistant city mayor for neighbourhood services, Cllr Kirk Master, said: "Our capital maintenance programme is what ensures the city's road network is kept in good condition to cope with modern traffic demands.
"This phase of works will be concentrating on surface repairs, such as patching damaged road surfaces, repairing or replacing damaged road humps in neighbourhoods across the city.
"In some cases, there will be one-day closures for the work to be carried out, and where this is the case, local diversions will be signposted.
"The work is essential to ensuring the durability of the city's road surfaces, and will benefit everyone who uses these roads."
Details of traffic and travel across Leicester and Leicestershire are available on Twitter at @ATCLeicester
(Ends)