National award for Leicester's flagship museum
Published on Thursday, August 1, 2019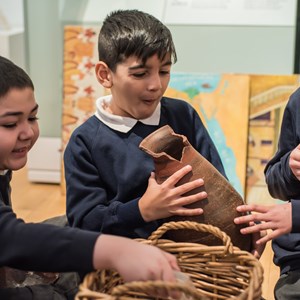 LEICESTER'S New Walk Museum has won a prestigious national award that recognises its contribution to heritage education.
The city council's flagship museum picked up a Sandford Award after impressing judges with its learning programme, which inspires visitors to explore the worlds of history, arts, natural history and palaeontology.
In their assessment of the museum, the judges noted that "a visit to one or all of the galleries will inspire awe and wonder and engage and inform learners of all ages."
As part of their report, the judging team looked at the welcome given to schools, the facilities available at the museum, the quality of teaching, and the learning and engagement of participants.
They also carried out an assessment of the informal learning programme and visited the museum's two new Ancient Egypt galleries ­– which were specially designed to meet the needs of schools.
Cllr Piara Singh Clair, deputy city mayor for culture, said: "This Sandford Award is a welcome endorsement of the quality of New Walk Museum's education programmes.
"We're proud that the museum is helping to improve people's understanding of their local and national heritage – and we're very proud to receive this prestigious national award."
All the winners of the 2019 Sandford Awards will receive their awards at a ceremony in the autumn.
More information about the awards is available at sandfordaward.org
ends
Notes to editors: The Sandford Awards were first awarded in 1978 to encourage those responsible for running historic houses to aim for high achievement in heritage education by monitoring standards.