Open days showcase adult learning opportunities
Published on Thursday, August 29, 2019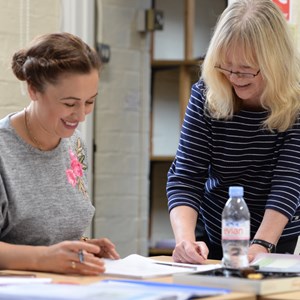 ADULTS wanting to learn new skills will be able to find out more at a series of open days taking place throughout September.
Leicester Adult Skills and Learning Service (LASALS) is running five open days at libraries and community centres across the city, where people can get information on courses, get hands-on with activities such as arts and crafts and maths, and even enrol on courses.
The events take place between September 2 and 11, and are free for people wanting to drop in and find out more. They take place as follows:
New Parks Library – Monday, September 2
The BRITE Centre – Wednesday, September 4
Pork Pie Library and Community Centre – Friday, September 6 (10 am – 2 pm only)
St Matthews Centre – Tuesday, September 10
Belgrave Neighbourhood Centre – Wednesday, September 11
Each open day runs from 10am to 2pm, and again from 5pm to 7pm, apart from the Pork Pie Library and Community Centre session which ends at 2pm. No booking is needed.
LASALS head of service, Kerry Gray, said: "This service helps ensure that a range of readily-accessible courses are available for people from all walks of life, in order to help them learn new skills and often to help improve their overall wellbeing.
"It is a valuable resource offering some wonderful opportunities to help people develop and learn in a supportive environment, at a range of venues across the city. I'd urge anyone considering an adult education course to go along to an open day near them and find out what is on offer."
More information is available on 0116 454 1900, at www.leicester.gov.uk/adulteducation or by emailing: lasals.admin@leicester.gov.uk
(Ends)