Overnight road closure planned for crossing improvement work
Published on Friday, August 30, 2019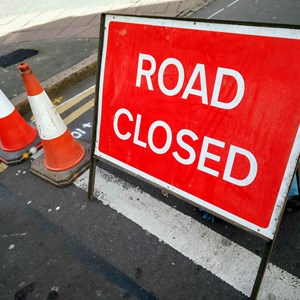 AN overnight closure will be in place on Leicester's Victoria Park Road next week, as work on a major highway improvement project nears completion.
The closure is required for work on the construction of a new, improved pedestrian crossing close to the Mayfield Road roundabout.
Victoria Park Road will be closed to traffic between the roundabout and the junction with Queens Road from 6pm on Monday 2 September until around 5am the following morning. Clearly signed diversions will be in place via the inner ring road. Access will be maintained for residents.
The work is part of the ongoing London Road improvement scheme and will relocate the existing pedestrians crossing to provide a safer and more direct route for pedestrians and cyclists, linking to the new cycle track created on Victoria Park Road.
Lane closures will be required close to the junction of Victoria Park Road and London Road for up to four weeks, while further improvement works are carried out.
The London Road improvement scheme itself is now in its final weeks of construction.
The busy route between Granby Street and the Mayfield Road roundabout is being completely revamped to create a safer and more appealing route for pedestrians and cyclists.
New cycle tracks are being created on both sides of London Road. These will feature raised kerbs to offer more protection to cyclists. The road will also feature new 'Dutch-style' bus stop bays to help helping to improve safety for all road users.
Side roads are being raised to pavement level at their junctions with London Road to help give priority to pedestrians and cyclists and improved crossing are being created. New traffic signal schemes are also being introduced to give cyclists a head-start at junctions.
The area immediately in front of the railway station has also been completely remodelled to improve services for bus users and create a new cycle lane.
London Road itself has been completely resurfaced.
The London Road improvement scheme has been developed with input from local bus companies and user groups, city cycling groups and the family of cyclist Sam Boulton, who was tragically killed in an accident outside the railway station.
The cycling element of the project is backed by up to £1.2million from the European Regional Development Fund.