Space-themed fun for all the family on Victoria Park
Published on Tuesday, August 20, 2019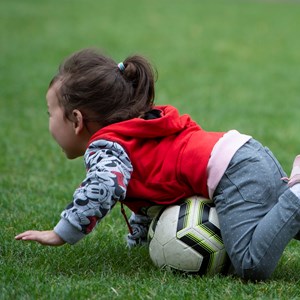 THE COUNTDOWN is under way to a day of space-themed fun in Leicester's Victoria Park tomorrow (Wednesday).
The free event – called Touch Down - is the finale of the city council's Get Up & Go scheme that's been helping children and families to be more active this summer.
Inspired by the 50th anniversary of the first moon landing, Touch Down will feature the virtual lift-off of Leicester's very own moon rocket, an exciting Space Hopper challenge, and an out-of-this-world climbing wall that (nearly) reaches the stars.
There will also be activities to mark the completion of Leicester's phenomenal Moon Walk, with children all over the city recording their steps to make a grand total of 478 million steps – the distance between Earth and the moon.
Leicester-based Soft Touch Arts have created a rocket with the help of children from Mowmacre and New Parks adventure playground – and at around 2pm on Wednesday, the rocket will have its virtual launch in Victoria Park.
There will also be coaching from Leicester City Football Club, ping pong tables and lots of fun with the giant zorbs.
Children must be a minimum of 1m to use both the zorbs and the climbing wall – and closed-toe shoes are also required.
Younger children can enjoy games and arts activities, with storytelling from the Bookbus and a safe place to play for babies – while the whole family can join yoga and mindfulness sessions with the Mindful Warriors.
Deputy city mayor Cllr Sarah Russell said: "The long school holidays mean additional costs for all families, but spending time together as a family doesn't have to cost a fortune.
"This summer, the city council has organised lots of free activities for children and families that will help everyone get out and about, without having to worry about the cost.
"Tomorrow is the big finale of our Get Up & Go summer scheme, so dress for the outdoors and join us on Victoria Park for what should be a great day out."
Touch Down takes place at the pavilion end of Victoria Park tomorrow (Wednesday 21 August) from 11am until 4pm.
The Get Up & Go scheme is one of a number of city council initiatives aiming to reduce the impact of poverty, improve lives and help children reach their potential.
So far this summer, more than 3,500 children have taken part in the scheme's free activities.