Theatrical show comes to neighbourhoods this summer
Published on Thursday, August 8, 2019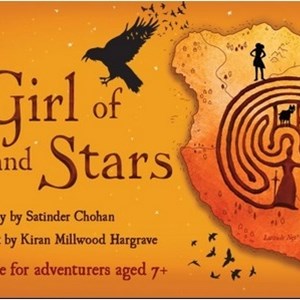 LIVE family theatre is coming to a library or community centre near you this summer.
The Girl of Ink and Stars is an exciting adventure story featuring maps, myths and monsters, based on a book by Kiran Millward Hargrave.
It tells the tale of Isabella, who dreams of the faraway lands her father once mapped. When a girl disappears into the Forgotten Territories, Isabella and her lifelong friend Pablo go in search of her. Following her map and an ancient myth, Isabella discovers that deep beneath the dry rivers and smoky mountains, a fiery legend is stirring from its sleep...
For the first time in city libraries and community centres, the performance will be presented through headsets to help boost the audience's imagination and give an immersive 360-degree sound experience. This means tickets are limited to 60 per venue, so book early to avoid disappointment.
The play is suitable for children aged from seven, and the running time is about 50 minutes. Tickets are £3 for members of Leicester Libraries, £4 for non-members, or £10 for a family ticket.
Cllr Kirk Master, assistant city mayor for neighbourhood services, said: "Working with the Spark Arts for Children, we are able to put on this play at libraries and community centres across the city. It gives families the chance to enjoy a theatrical performance in their own neighbourhood and it's a great way to beat summer holiday boredom. It's exciting that we are bringing headsets into the performance as a way of bringing the whole thing to life."
The play is being staged as part of Leicester Libraries' summer reading challenge, which this year takes a space theme. The challenge, called Space Chase, is free to join and encourages children to read six library books over the course of the summer holidays, picking up rewards along the way.
Cllr Master added: "Our summer reading challenge is going very well, with nearly 5,000 children already joined up for Space Chase. Now there's the chance to catch a unique theatrical performance the next time you borrow a new book."
The Girl of Ink and Stars is at the Brite Centre and New Parks Library on Tuesday 13 August, and St Barnabas and Beaumont Leys libraries on Wednesday 14 August. It is at Highfields Library and the Pork Pie Library & Community Centre on Thursday 15 August.
The play will be performed at Westcotes and Hamilton libraries on Saturday 17 August, and at Belgrave Neighbourhood Centre on Monday 19 August.
For times and to buy tickets, visit https://thesparkarts.co.uk/events/121865/the-girl-of-ink-and-stars
To find out more about Space Chase, the summer reading challenge, visit www.leicester.gov.uk/libraries
(ends)