Try yoga at New Walk Museum
Published on Wednesday, August 14, 2019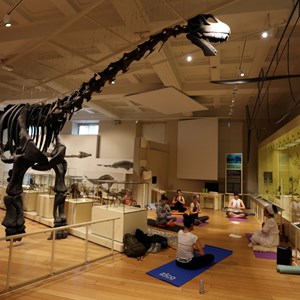 IF you've ever fancied trying out yoga under the silent gaze of dinosaurs then New Walk Museum's latest series of sessions could be right up your street.
The venue is hosting a season of yoga sessions this autumn, aimed at giving people the chance to relax and explore the ancient art form.
Instructor Louisa Darling, who is running the sessions, has been teaching dance for 15 years, is the creator of the Barefoot Festival and is a qualified Kundalini Yoga teacher with seven years' experience, also running yoga and sacred dance retreats in India and Morocco.
Sessions will take place on Thursday evenings from 5.30pm - 6.30pm, and on Sunday mornings from 10-11am.
The Thursday evening courses run from September 5 to October 10, and start again from October 24 to December 12.
The Sunday morning classes run from September 8 to October 13, and again from October 27 to December 15.
Classes cost £9 each, or can be block booked for six sessions (£45) or eight sessions (£60). They are suitable for all ages and abilities.
Kundalini Yoga is an uplifting blend of spiritual and physical practices, incorporating movement, dynamic breathing techniques, meditation and the chanting of mantras. The goal is to build physical vitality and increase consciousness.
Participants need to bring their own yoga mat. Tickets are available from the museum shop or by calling the museum on 0116 225 4920.
(Ends)