Council works with local motorcycle group to find new clubhouse
Published on Tuesday, December 10, 2019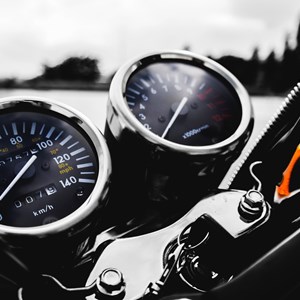 A LOCAL motorcycle club, that has just celebrated its 60th year, is set to relocate from its current clubhouse to make way for new housing.
The Fosse Riders Motorcycle Association has been working with Leicester City Council to find alternative accommodation. Its current clubhouse on Western Park is part of a site due to be sold by the council for development of 20 new, highly energy efficient homes.
Fosse Riders will now be moving to a new clubhouse in the vacant Glenfield Road pavilion, which it will refurbish at an expected cost of around £50,000. On completion of the works, the council will lease the new clubhouse to the club with a six-year rent-free period.
The new clubhouse will also be made available for wider community use.
Fosse Riders' Mike Fairhead said: "Whilst it will be sad to be leaving our present clubhouse in beautiful Western Park we are, at the same time, excited and looking forward to renovating and bringing back into use a 1927 Golf Pavilion and making it our new clubhouse.
"The City Mayor has been most supportive and it's due to his help that we have been given this opportunity."
Fosse Riders Motorcycle Association was formed in 1959 and has been based at its current clubhouse in Western Park since the early 1970s.
City Mayor Peter Soulsby said: "The Riders have a long history. The club has run and managed premises rented from the council for many years. I am very pleased that we have been able to work with the Fosse Riders to help them relocate from their current clubhouse.
"By arranging this letting, we can help ensure that the Fosse Riders Motorcycle Association continues to play an important part in its local community. It also helps pave the way for the exciting redevelopment of land and empty buildings in Western Park."
Parmar Properties and Western Ward Community Enterprise (WWCE) has successfully bid to buy and develop two areas of land on Western Park, including a former open-air school and the former Eco House.
Parmar Properties is owned by Naresh and Sharon Parmar, who have successfully refurbished several local historic and listed buildings. These include The Pavilion on Western Park, Winstanley House on Braunstone Park, Belgrave House and stables, and The City Rooms on Hotel Street.
Parmar Properties plans to transform the former school into new offices and then develop 20 two-storey houses on the other bigger site – four of which would be affordable housing. All houses will be built to be highly energy efficient, with five meeting the highest Passivhaus standard.
Parmar Properties will lease the Eco House building to WWCE for a peppercorn rent. It is intended that the building will be refurbished and used for a variety of community purposes.