Libraries staff choose their favourite Christmas reads
Published on Thursday, December 12, 2019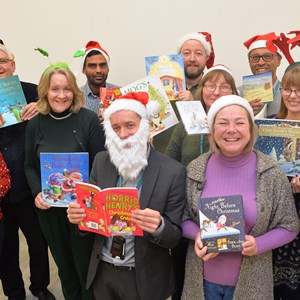 LOVEABLE aliens, a sidekick rabbit called Stanley, Nigel Slater's winter feasts and a tale of Christmas in the trenches all feature in the books and stories Leicester Libraries staff have picked as their festive favourites.
As Christmas approaches, staff were asked to pick out some of their favourite books – old or new, for children or for adults – to give some inspiration for anyone wanting to curl up with a good book over the holiday season.
Overall favourite amongst the city council's libraries staff was timeless ghost story A Christmas Carol, by Charles Dickens. Also singled out for recommendation were The Snowman, by Raymond Briggs, Kipper's Christmas Eve, by Mick Inkpen, and How The Grinch Stole Christmas! by Dr Seuss.
Development librarian Graham Whatley recommends A Creature Was Stirring, One Boy's Night Before Christmas, by Carter Goodritch. In this magical tale, a little boy too excited to sleep is worried that he'll get into trouble for staying awake on the big night. His curiosity pays off, however, when he has his very own ride on Santa's sleigh.
Angela Redfern from Beaumont Leys Library recommends Aliens Love Panta Claus, by Ben Cort. Part of the Aliens Love Underpants series, this instalment sees the aliens giving away underpants – rather than their usual stealing of them - because tomorrow is Christmas day. Join them as they help out in Santa's busy workshop, put neon pants on Rudolph and tie knickers up in the place of stockings!
Sandy Gibbons, development librarian for children and young people, has picked Emily Brown and Father Christmas by Cressida Cowell. Emily Brown and her side-kick rabbit, Stanley, have an important message to convey about cherishing traditions that children will understand. It's storytelling at its best, from an exciting creative team in children's books.
Sandy also recommends The Christmas Chronicles: Notes, stories & 100 essential recipes for midwinter by Nigel Slater. From the BBC1 presenter and bestselling author of Eat, The Kitchen Diaries and Toast comes a new book featuring everything you need for the winter solstice. The Christmas Chronicles is the story of Nigel Slater's love for winter, with recipes, decorations, fables and quick fireside suppers.
Priten Pancholi from St Matthews Centre has selected a modern children's classic - Stick Man by Julia Donaldson. Stick Man lives in the family tree, with his stick lady love and their stick children three. But it's dangerous being a Stick Man - a dog wants to play with him, a swan builds her nest with him and he even ends up on a fire! Will he ever get back to the family tree – perhaps Santa can help?
Another Julia Donaldson favourite, The Gruffalo's Child, has been picked by resource development officer James Morley. The Gruffalo said that no gruffalo should ever set foot in the deep dark wood. But one wild and windy night, the Gruffalo's child ignores her father's warning and tiptoes out into the snow. After all, the Big Bad Mouse doesn't really exist - does he?
For operations manager Adam Lunn, it's a Christmas tale first published in 1978 that's his favourite, written by Allan Ahlberg. In Cops and Robbers, the robbers of London town plan an audacious crime one Christmas Eve - to steal all the toys they can get hold of. But the robbers have reckoned without brave Officer Pugh, who leaps into action…
Area development manager Paul Gobey recommends Harvey Slumfenburger's Christmas present, by John Burningham. One Christmas Eve after the reindeer are asleep, Santa sees a present still in the sack - Harvey Slumfenburger's present. And so he starts a very long journey on foot, by plane, on skis... until at last he reaches Harvey's hut, slides down the chimney, and delivers the last Christmas present, safe and sound.
Head of neighbourhood services Lee Warner recommends The Best Christmas Present in the World by Michael Morpurgo. Echoes of Christmas 1914 in the trenches call to the present day when a letter found by chance in an antique desk brings one soldier's experience hauntingly to life.
Cllr Kirk Master, assistant city mayor responsible for libraries, said: "Books make great gifts, but Christmas can be an expensive time of year so it's good to know families can borrow their Christmas books for free from Leicester Libraries to get into the festive spirit. The great thing about our libraries, with our city-wide stock of around 450,000 books, is that you can find and borrow loads of great seasonal reading material for free.
"Anyone in the city can join our libraries service, and as well as books you get access to computers, e-books and library events. Signing up is easy and free."
On Saturday (14 December), there are also free Christmas arts and crafts workshops at the Brite Centre in Braunstone and at Fosse Neighbourhood Centre. Youngsters can make Christmas cards, stockings and decorations between 11am and 2pm at the Brite Centre and from 12.30pm to 3pm at Fosse.
And there's still time to win some great children's books in the libraries' Facebook competition. Visit their Facebook page before 12 December for the chance to win a prize.
For more information about Leicester's libraries, visit www.leicester.gov.uk/libraries
(ends)