Lord Mayor visits community lunch club
Published on Monday, December 16, 2019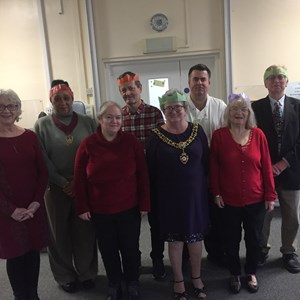 MEMBERS of a lunch club in Knighton invited Leicester's Lord Mayor to join them for a festive meal.
The club, which meets at Holbrook Hall, in Holbrook Road, invited the Lord Mayor of Leicester Cllr Annette Byrne to join them for their Christmas lunch of turkey and trimmings followed by a traditional hot pudding.
The club is regularly attended by around 15 people, and meets on the second Thursday of each month. The usual meal is a roast dinner with potatoes, Yorkshire pudding, vegetables and then a pudding.
It was set up two years ago to help people in Knighton who want to get out and about more to socialise and make new friends.
The Lord Mayor said: "I'm very pleased to be joining Knighton Lunch Club for a visit and sharing a meal and a chat with everyone. Clubs like this one help to keep people together – they're an important part of our communities."
Ward councillor Dr Lynn Moore added: "The Knighton councillors asked for a grant from the ward community fund to hire a hall and set up this club. We advertised the club in our ward newsletter and had a dozen or so people coming along right from the start. We were also fortunate to be put in touch with someone who was happy to provide a hot two-course lunch for £5. 
"The club is friendly and informal, and people enjoy chatting to each other over a meal. There has even been a summer outing to Anglesey Abbey.
"New members are welcome – they just need to get in touch with me for details."
Ward community funds are available for all wards across the city. Each ward is allocated a yearly budget which can be used to support projects that bring benefits to the community within the ward.
To find out more, search 'ward community fund' at leicester.gov.uk
To contact your local councillor, visit: www.leicester.gov.uk/councillors
(ends)