Naughty Sugar! takes top prize at 30th Open exhibition
Published on Monday, December 16, 2019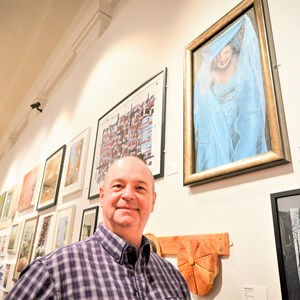 A PANEL of judges has been assessing the painting, prints, drawings, photographs, sculptures and craft that feature in this year's Open exhibition in Leicester and the prize winners have been announced.
Heading up the winners at Open 30 was Pete Underhill (pictured) who won this year's Attenborough Prize for his oil on aluminium painting 'Naughty Sugar! – a Portrait of Hannah Matthews'.
Runners-up were Zoe Wanless for her embroidery work 'Lost in Thought' and Vibhuti Dinesh, from the young people's category, for her photograph 'Dada Sleeping'.
Other winners in the young people's category included Mohammed Hafeji, Joseph Howson and Florrie Robbins who picked up prizes in the ages 5 to 10 category; Khadijah Ahmed, Rina Al Maawi, Shivani Patel in the age 11 to 15 category; and Rebecca Frary, Zainab Rao and Amena Yahia who all scooped awards in the 16 to 18 age group.
Cllr Piara Singh Clair, deputy city mayor for leisure and culture, said: "It is always an honour to present these awards and the judges were very impressed by the quality of this year's entries to the Leicester and East Midlands Open exhibition.
"I would like to thank all the artists who entered the competition. Their talent and creativity continue to make the Open a showcase for the best contemporary art from the across the region.
"We are also very grateful to our sponsors, whose support for the artists and for this exhibition is invaluable."
Prizes for this year's Open exhibition were awarded by De Montfort Hall, Curve, LCB Depot, Leicester Print Workshop, Art House, Soft Touch Arts, City of Leicester Museums' Trust, The Spark Arts for Children, We Are and Two Queens.
In total, 222 artists took part in this year's Open, submitting more than 300 paintings, sculptures, drawing, photographs and other arts and crafts.
All exhibits are now on display at New Walk Museum and Art Gallery and admission is free. The exhibition runs until Friday 24 January.
Most of the work featured in the Open will be available for sale – giving members of the public the chance to buy original work at an affordable price.
The Leicester Open – now in its 30th year – welcomes work from artists living or working in Leicester, Leicestershire, Rutland, Derbyshire, Lincolnshire, Nottinghamshire or Northamptonshire.