Santa moves in to Leicester's new market square
Published on Wednesday, December 4, 2019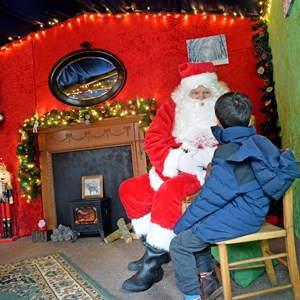 SANTA will be swapping Lapland for Leicester this Christmas – and he's about to move into his cosy new home in the city centre.
The city council is putting the finishing touches to Santa's Christmas grotto, which will be topped with snow and surrounded by Christmas trees in Leicester's new market square.
From 11am on Saturday (7 December), children will be able to visit Santa in his grotto free of charge – and they'll also receive a small free gift when they meet him.
Any child who's written a list for Santa will be able to hand their letter over in person – or they can post it in Santa's special post box next to the grotto.
Markets business manager Sonya Spink said: "Santa's told us that he's looking forward to meeting lots of children in Leicester in the run-up to Christmas ­– and he's very happy to pose for photographs!
"It's going to be chilly, so my advice to families is to wrap up warm, as they may have to queue outdoors before it's their turn to meet Santa."
Santa will be in the square from 11am to 6pm on Saturdays, 11am to 4pm on Sundays and from 11am to 6pm from Monday to Friday.
He will be in his grotto every day from Saturday 7 December until Sunday 22 December.
Santa in the Square is a free Christmas experience for local children provided by Leicester City Council and run by Leicester Markets.
Next Thursday (12 December), another free festive attraction will open in the new market square alongside Santa's Grotto.
LightWeight, a four-metre high illuminated sphere, will interact with its audience with some stunning video and animation effects.
Last year, the shimmering globe entranced visitors to Cathedral Gardens – and this year it's back in Leicester, thanks to funding from BID Leicester.
BID Leicester director Simon Jenner said: "We're pleased to be bringing LightWeight back to the city this Christmas.
"It proved a popular attraction with all ages last year, and its location in the new market square - close to Santa's Grotto and other Christmas activities - will make the area a must-visit destination for families in Leicester this festive season."
LightWeight can be enjoyed from dusk every day from Thursday 12 – Saturday 21 December.
Other family-friendly attractions in Leicester this Christmas include the magnificent Jubilee Square ice rink – which opens tomorrow (Thursday 5 December) - the giant Wheel of Light and a traditional carousel on Humberstone Gate. Visitors can also enjoy a nativity scene and an animated scene, featuring characters from Woodland Tales, in Town Hall Square.
On Sunday (8 December), families can enjoy some classic Christmas films in the cosy surroundings of Leicester's medieval Guildhall.
Watch The Muppet Christmas Carol in front of a real fire at 10am for just £5, or choose The Wizard of Oz (3pm) or It's A Wonderful Life at 6pm.
Tickets for The Wizard of Oz and It's A Wonderful Life are £7 – or settle in for a double-bill and watch both films for £10.
Also on Sunday (8 December), there's a Christmas Toys & Steam Day at Leicester's Abbey Pumping Station when one of the magnificent Gimson beam engines will be in steam.  Admission is £3.50 (£2.50 concessions).
More information about Leicester's Christmas events and attractions is available at christmasinleicester.co.uk
A summary of Leicester's Christmas events is set out below:
The Wheel of Light. Jubilee Square
Enjoy a bird's eye view of Leicester's Christmas lights from our 110-ft Ferris wheel.
Daily (closed Christmas Day and New Year's Day) until 6 January.
Standard ticket £5; children under 1.4m £4; family ticket £15.
11am-9pm Mon-Thurs; 11am-11pm Fri-Sat; 12noon-9pm Sun.
Traditional nativity scene and Woodland Tales. Town Hall Square
See the story of Christmas and an animated tableau scene under the festive lights in Leicester's historic Town Hall Square
Funfair. Humberstone Gate
Family-friendly fairground rides in the heart of the city centre until 6 January
From 5 December: Christmas Ice Rink. Jubilee Square
Skate on our spectacular real ice rink, whatever the weather!
Tickets from christmasinleicester.co.uk, Visit Leicester on Gallowtree Gate and the Jubilee Square box office. £10/£8.50 (£9/£7.50 at off-peak times). Skate for a fiver on our preview days (5-6 December)
From 10am daily (11am on Mondays to Fridays until 20 December) until 5 January. Closed Christmas Day and New Year's Day.
From 7 December: Santa in the Square. New Market Square
Visit Santa in his snow-covered grotto, every day until 22 December. Free admission – and free small gift for every child.
Monday-Friday: 11am-6pm; Saturday: 11am-6pm; Sunday: 11am-4pm
8 December: Christmas Movie Day at the Guildhall
Enjoy some of the best Christmas films in front of an open fire in the beautiful Guildhall.
The Muppet Christmas Carol (10am) - £5; The Wizard of Oz (3pm) - £7; It's a Wonderful Life (6pm)- £7. Or see both the Wizard of Oz and It's A Wonderful Life for just £10.
Tel: 0116 253 2569.
8 December: Christmas Toys & Steam Day. Abbey Pumping Station
Start the festive season with a visit to the Abbey Pumping Station Museum and a chance
to see the Gimsom beam engines in steam!
Admission £3.50 (£2.50 concessions). Tel: 0116 299 5111.
12noon – 5pm
From 12 December: LightWeight. New Market Square
Strike a pose at LightWeight, a giant shimmering globe featuring live animation, every day until 21 December. Presented by BidLeicester.
5pm-10pm
Now open: The Jägerhaus. St Peter's Square, Highcross
Enjoy festive food and drink at Leicester's German-themed outside bar.
Open daily from 10am-9pm until 28 December
Christmas gift ideas at Visit Leicester on Gallowtree Gate:
Book your tickets for Leicester's real ice rink. Choose from a wide range of Leicester-themed gifts, including gorgeous hand-painted baubles and Christmas cards.
Christmas shows in Leicester include:
23 November – 11 January: West Side Story. Curve
9-31 December: Giraffes Can't Dance. Curve
9-26 December: Beauty and the Beast. Peepul Enterprise
12 December: Sleeping Beauty. The Y Theatre
13 December – 5 January: Robin Hood. Little Theatre
14 December – 5 January: Aladdin. De Montfort Hall
14 December: The Wizard of Oz. The Y Theatre
17 December: Christmas Cabaret. The Y Theatre
21 December: Jack's Giant Adventure. The Y Theatre