Social work team wins top national award
Published on Tuesday, December 3, 2019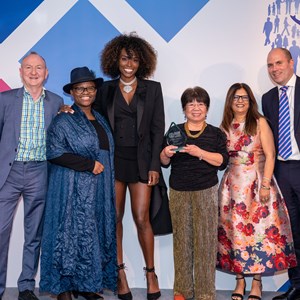 A SOCIAL work team at Leicester City Council has taken the top prize in a prestigious awards ceremony recognising its outstanding work in supporting vulnerable adults.
The city council's Adult Social Care West Locality Team 3 won the gold medal for Team of the Year - Adult Services, in the annual Social Worker of the Year Awards in London this week.
The seven-person team is based at Beaumont Leys, and covers the areas around Saffron Lane, Eyres Monsell, Aylestone and the city centre. Its members include qualified social workers, care management officers, and specialists in dealing with street lifestyles such as homelessness and substance use, as well as a specialist mental health worker helping older people.
The awards, given by The Social Work Awards charity, are designed to improve public awareness and understanding of social work by showing the positive impact of social workers in the wide range of roles they undertake.
The judging panel described the Adult Social Care West Locality Team 3 as "passionate and driven social workers who, with the sole intention of bettering people's lives, are doing great work."
More than 450 social workers and representatives from the profession attended the awards, which were hosted by TV chef and emotional wellness advocate, Lorraine Pascale.
Jon Richards, Head of Education and Local Government at award sponsor UNISON, said: "I was thrilled to present the ASC West Locality Team 3 with the Gold award for Team of the Year, Adult Services.
"It is clear that every member of this team is dedicated to improving the lives of the people they support, and they should be extremely proud of everything they have achieved."
This year the awards received a record-breaking number of nominations and 94 social workers and social work teams in both children's and adult services were selected as finalists across 16 different categories.
Leicester deputy city mayor responsible for social care and anti-poverty, Cllr Sarah Russell, added: "This is a tremendous result which really highlights the hard work our social workers carry out to help improve the lives of some of the city's most vulnerable adults.
"Their work is often done behind the scenes, and ranges from helping people with mental health and welfare issues, to homelessness and substance misuse.
"Congratulations to the team on winning this well-deserved award."
For more information visit: www.socialworkawards.com
(Ends)
Picture shows Adult Social Care West Locality Team 3 care management officers Rupa Shah, Ellah Kandi and Donna Mostyn, along with (left to right) Jon Richards, Head of Education and Local Government at award sponsor UNISON, TV chef and emotional wellness advocate Lorraine Pascale, and James Rook, Chief Executive of Headline Sponsor Sanctuary Personnel. (Credit: CPG Photography / The Social Work Awards)