Carer Gill gets award at staff celebration event
Published on Monday, February 11, 2019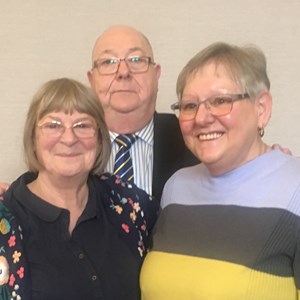 A carer who has looked after more than 100 people with learning disabilities has been recognised for her work with an award for outstanding achievement.
Gill Evans, from Leicester, is a Shared Lives carer. Shared Lives is a national scheme where people open up their homes to help support someone with a learning disability, whether it's for respite care, a short stay or a more long-term arrangement.
Now Gill has been given an Outstanding Contribution certificate from the city council to thank her for her efforts.
Cllr Vi Dempster, assistant city mayor responsible for adult social care, said: "Gill has been a Shared Lives carer for 20 years and we wanted to say thank you to her for the outstanding commitment, compassion and dedication she has shown during that time.
"Often Gill has supported people in emergencies and at short notice, when service users have been in distressing situations. Her caring and supportive nature has made these experiences as positive as possible under difficult circumstances.
"Gill is a great advertisement for the Shared Lives scheme, which helps people with learning disabilities or mental health needs to live full lives in their communities. Thanks to her, some of our most vulnerable citizens have benefitted from a safe, caring family environment just when they need it most."
Gill originally worked as a cleaner in a day centre for people with learning disabilities. A social worker spotted the compassionate way she spoke to the people using the centre, and suggested she become a Shared Lives carer.
Gill said: "I'm delighted to get this award. I get so much pleasure from my role and it's really satisfying to hear someone say 'thank you'. This job came to me and I believe I've helped to transform the lives of the people who stay with me.
"It's not easy, but it is very rewarding. To do this kind of job you have to stop treating people for their learning difficulties and treat them like individuals."
Alongside Gill, around 150 employees from the city council's social care and education department received awards last week, at a 'celebrating success' event.
Awards were handed out for long service, outstanding contributions, involvement in significant service development and a range of qualifications, from apprenticeships to AYSEs (assessed and supported year in employment).
Cllr Dempster said: "I'd like to congratulate all of our staff who received awards at this event. We recognise and celebrate their achievements. It's because of our hard-working and dedicated staff that we are able to support vulnerable people in Leicester and help them to improve their lives."
(ends)