Council on track to beat targets on reducing greenhouse gas emissions
Published on Friday, February 1, 2019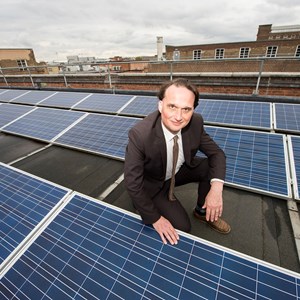 LEICESTER City Council has joined others across the country and the world in declaring a climate emergency as it sets out its ambition to exceed its own targets to reduce greenhouse gas emissions across the city.
The city council first set out its aims for carbon reduction in the 1990's, long before any national target was set. It is a member of UK 100, a coalition of local authorities pledging to source 100% clean energy by 2050. And the city is one of a few in the UK to participate fully in the International Carbon Disclosure Project to monitor and reduce emissions.
Cllr Adam Clarke, deputy city mayor for the environment said: ""The most recent figures available from 2016 show we had reduced carbon emissions across the city by 44% since 1990, putting us well on track to exceed our target of a 50% reduction by 2025.
Similarly in 2017/18 we had reduced emissions from our own estate and operations by 37.2% compared to the 2008/9 baseline, meaning we are also on target for a 50% reduction here. These targets already go beyond those required by the UK government.
"However, the latest prediction by the Intergovernmental Panel on Climate Change (IPCC) is that there are only 11 years left to act decisively on climate change, this means we need to increase our actions and set tougher targets.
"We are therefore declaring a climate emergency and will be calling on the Government to support our aim of becoming carbon neutral between 2025 and 2030.
"Over the coming months we will be developing a new three-year Sustainability Action Plan that will set out our next phase of actions to tackle climate change. As part of this we will be looking at innovative actions taking place in other organisations and cities, and will continue working with residents, businesses and local organisations across the city to develop our response to climate change and the risks it presents."
Actions already taken by the council to reduce carbon emissions include:
replaced all of Leicester's streetlights with white LEDs which reduced their carbon emissions by 58%.
installed a district heating system across the city which uses surplus energy to heat council buildings including flats, leisure centres and schools
introduced energy efficiency measures in council buildings, such as solar panels, which have reduced emissions across the council estate by 41%
launched its own energy brand Fosse Energy which allows residents to switch to an affordable energy tariff with 100% renewable electricity
Worked with 93 city businesses through the European-funded Green Belle programme providing grants for energy efficiency measures including LED lighting and solar panels
Continuing to improve the cycling and walking infrastructure within the city and promoting the use of sustainable transport through the Choose How you Move initiative
Educating the next generation through the Eco-Schools programme which has worked with thousands of pupils and teachers across the city, with 100 out of 115 city schools registered as Eco Schools.
The current Sustainability Action Plan is available here. The new plan for 2019-2021 will be published later this year.