Council sets out new housing vision for disused Waterside site
Published on Wednesday, February 20, 2019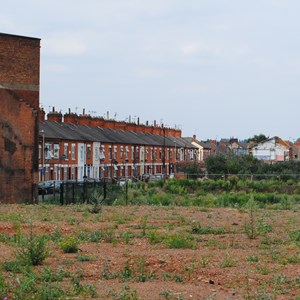 PEOPLE are being invited to comment on proposed housing and development guidelines for a vacant site at the heart of Leicester's Waterside regeneration area.
The guidelines are intended to help steer the future regeneration of a 3.5hectare site alongside Repton Street, on the banks of the River Soar.
Leicester City Council wants to see the area redeveloped as a new area of housing, which could provide up to 250 new homes.
The land and properties within the site are privately-owned and largely derelict and disused. The site, which runs from Rally Park to Frog Island, is also at risk of flooding from the River Soar.
The draft co-ordinating code for the redevelopment provides guidance for landowners and potential developers on the types of development that would be acceptable to the council, as planning authority, and to the Environment Agency in terms of flood mitigation.
It sets out the following guidelines:
Ground levels across the site should be raised to protect new and existing homes from the risk of flooding
The maximum height of new buildings should be two to three storeys near existing homes on Repton Street, with the possibility of up to six storey development overlooking Rally Park
Adequate new parking spaces should be created to avoid any additional parking pressure on existing streets
An extension to the riverside footpath and cycleway should be provided along the entire length of the Repton Street development site
Up to 250 new homes could be provided. These could be a mix of houses and apartments.
City Mayor Peter Soulsby said: "The Repton Street site is typical of many parts of the Waterside area. It has suffered badly through the closure of key industries leaving sites unused and derelict.
"We have an ambitious long-term vision to transform Waterside into a thriving neighbourhood with great places to live, new spaces to do business and attractive links between the riverside and the city centre.
"The first phase of this project is now well underway and it is important that we maintain momentum by identifying other areas that would benefit from redevelopment. Repton Street is an ideal candidate and has fantastic potential for new riverside housing.
"By setting out a clear co-ordinating code we can help guide the future development of this important site, focussing on the opportunities for the city and making it a less risky proposition for potential investors and private developers."
A six-week consultation on the draft co-ordinating code for housing development at Repton Street has been launched today (Wed 20 Feb). It is available online at www.leicester.gov.uk/consultations