Final touch for Old Town streets revamp
Published on Thursday, February 14, 2019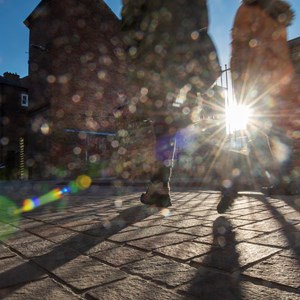 A FINAL phase of work on a major revamp of the streets in Leicester's historic Old Town area will get under way from next week.
Leicester City Council plans to reconstruct a short stretch of Friar Lane, between Market Place South and Grey Friars, from Monday 18 February.
Footpaths will be reconstructed with high-quality block paving and the road resurfaced in coloured asphalt. The scheme is expected to last around eight weeks and will cost £175,000. There will no change to the existing layout.
The work follows the completion of a two-year project that has seen £3.7milllion invested in major improvements to five key streets in the Greyfriars conservation area.
Wycliffe Street, Marble Street and, most recently, New Street have been reconstructed in porphyry stone to match improvements made around Leicester Cathedral.
Friar Lane and Millstone Lane have also been improved with footpaths reconstructed in high-quality concrete block paving and carriageways completely resurfaced in coloured asphalt.
Footpaths in the area have been widened, drain covers have been replaced with specially commissioned pieces that recall the history of the area and new street trees have been planted.
The Old Town streets revamp was carried out as part of the wider Connecting Leicester programme, which is improving routes into and through the city centre and helping to make it more attractive to residents, visitors, businesses, investors and developers.
The city council is also supporting improvements in the historic Old Town area through the Greyfriars Townscape Heritage Initiative (THI). Backed by £1.1milllion from the Heritage Lottery Fund, the five-year programme is focussed on buildings in the area. It offers property owners and businesses grants to help cover the costs of restoring building facades, reinstating original architectural features and bringing vacant properties back into use.
So far, about £600,000 of THI money has been awarded to support the restoration of 19 buildings in the area. This has been backed by over £500,000 of private investment.
Five more projects are planned for 2019, which will be the final year of the THI programme.
City Mayor Peter Soulsby said: "Investing in the city's heritage and realising the huge potential of areas like our historic Old Town is vital is supporting Leicester's long-term growth and prosperity.
"By improving these key streets and making them more people-friendly, we are helping to make the Old Town an even more inviting and attractive place for people to explore on foot or bike.
"Alongside work being supported through our Townscape Heritage Initiative, we are putting this remarkable collection of streets, spaces, buildings and businesses back in the spotlight. This is helping to attract more visitors into the city, draw new private investment into the area and bring long-neglected buildings back into use.
"The street masons have done a terrific job and whole area is beginning to look really smart now.
"This latest work on Friar Lane will fill another missing link between our historic Old Town and the city's modern retail heart."
To find out more about the Greyfriars Townscape Heritage Initiative visit www.leicester.gov.uk/thi