Just days to go before city's spectacular free 3D show!
Published on Tuesday, February 26, 2019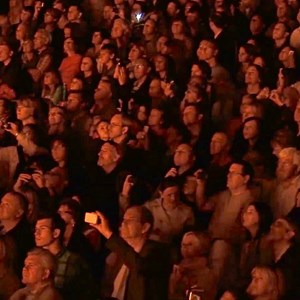 THE UK's year-long programme of events celebrating 100 years of votes for women ends in spectacular style in Leicester on Sunday (3 March) – and it promises to be an unforgettable experience.
In three free 30-minute shows, event specialists Shared Space & Light will transform the city's new market square with a stunning display of 3D video mapping and large-scale projection that will use the historic Corn Exchange as a backdrop.
Extraordinary light effects, archive footage and a bespoke soundtrack will combine with live performance and a 40-strong choir to create something special that no one will want to miss.
Organisers say it's the first time that an event of this kind has been seen in Leicester. Geoff Rowe of the Leicester-based Big Difference Company – which is co-producing the event – said: "It's going to be absolutely brilliant!
"We're proud to have worked on huge Leicester events in the past and have brought together an amazing team to produce this latest event. Anyone who joins us on Sunday will remember this event for the rest of their lives so I would urge you to reserve your place now."
Brighton-based Shared Space & Light is the company behind the spectacular Lighting of the Torch ceremony at the 2012 Paralympic Games and the amazing installations at Durham's world-class Lumière festival – but they have also produced video art for the Grand Canal in Venice and even a desert in the United Arab Emirates.
Their unique representation of the story of Alice Hawkins – the shoe factory machinist who led the women's suffrage movement in Leicester in the early 1900s, and who is now commemorated with a statue in Leicester's new market square – is set to wow audiences on Sunday with its special effects alone.
Admission to the three shows – at 6.30pm, 7.45pm and 9pm – is by free wristbands, which are available from Visit Leicester on Gallowtree Gate, the customer service desk at Highcross, the LCB Depot on Rutland Street, and New Walk Museum. Wristbands will also be available on the night, with Visit Leicester staying open until 9pm on Sunday.
Anyone with a wristband can also take advantage of some great linked offers in Leicester city centre.
On Sunday, there's 20% off full-price shoes, boots and bags at Clark's, savings on drinks and a special Hawkins' High Tea (booking required) at 33 Cank Street, 15% off drinks at Bruxelles on High Street, and discounts on a range of suffragette-themed food and drink at Firebug on Millstone Lane, with a meal and a drink available for just £6.
There's also free admission to the award-winning King Richard III Visitor Centre after 2pm on Sunday for those showing their wristband.
From Saturday (2 March) until Monday (4 March), diners at Bill's on Shires Lane can enjoy a free Bill's beer or glass of wine with any main meal, when they show their wristband.
And although Femi Health & Beauty on Highcross Street is closed on Sundays, anyone with an event wristband can claim 20% off their next treatment, or choose a free £5 salon voucher.
City centre director Sarah Harrison said: "Places for the 6.30pm show are filling up fast, but there's good availability for the shows at 7.45pm and 9pm, so why not enjoy a meal or a few drinks in the city centre first, before being part of what should be a truly remarkable experience?
"Local businesses have come up with some great special offers for everyone with an event wristband, so make the most of those offers and enjoy a day out with family and friends in Leicester."
The Visit Leicester centre on Gallowtree Gate will be open until 9pm on Sunday 3 March for any last-minute requests for wristbands.
Newarke Street car park will also stay open later than normal to help those wishing to drive to the city centre for the event. The car park will close at 10pm (last entry 9pm) on Sunday, with an all-day rate of just £1.
'Always and always facing toward the Light' – the motto of the Leicester suffragette movement – is supported by funding from the Government's Centenary Cities fund.
A life-sized suffragette made of LEGO is now on display at Leicester's New Walk Museum. Made of around 35,000 individual LEGO bricks, the suffragette has been loaned to the city and is helping to promote Sunday's event.
Named 'Hope', the LEGO suffragette will remain on display until 28 April.