Last chance to see museum's animals before Easter!
Published on Friday, February 22, 2019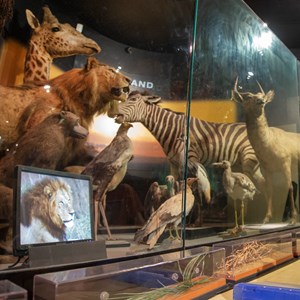 THE WILD Space gallery at Leicester's New Walk Museum will close this weekend for a much-needed spring-clean – but it won't be long before the animals are back on display.
From the Arctic fox to the zebra, all 150 animals in the gallery will be carefully cleaned to remove the dust that finds its way into their display cases and onto their fur and feathers.
Museums staff will use specialist equipment to gently restore the animals, with deep cleans planned for everything in the gallery, including the leopard, the lion and the tiger, as well as the horned toad and the snowy owl.
Audience development and engagement manager Chris Kirby said: "Our Wild Space displays are designed to be very accessible, but unfortunately this means they are also prone to collect dust – and that's enough to turn a penguin grey!
"We do a deep clean every few years to remove the dust, which helps keep our collection in good condition, but unfortunately that does mean we have to close the gallery while work is under way.
"We hope that families will come back to the Wild Space gallery in the Easter holidays, when our wildlife collection will be looking its best once more."
The Wild Space gallery at New Walk Museum will close at 5pm on Sunday (24 February) and will re-open to the public on Saturday 13 April - just in time for the school Easter holidays.